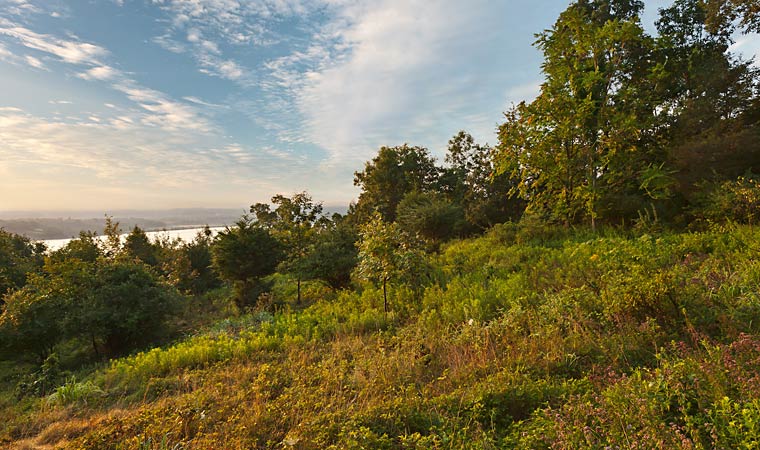 In December 2011, Scenic Hudson protected 310 acres of astonishingly varied landscape that offer broad potential for public recreation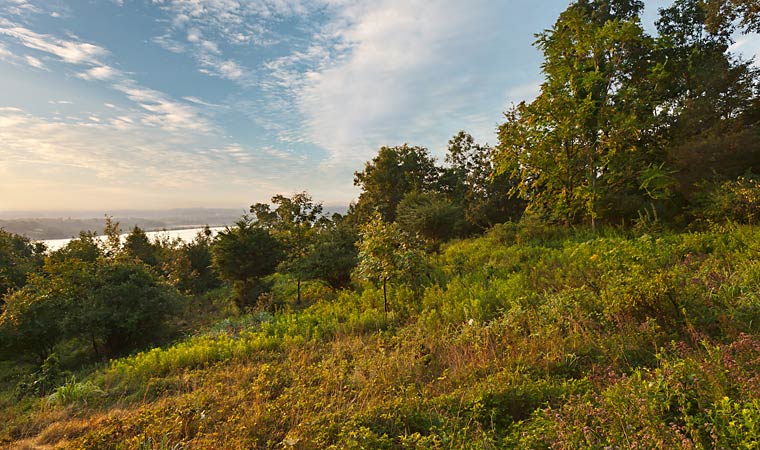 Hudson River view from Esopus Lakes property.
Robert Rodriguez, Jr.
This acquisition—a Scenic Hudson priority for two decades—protects an astonishingly varied landscape featuring forest, riverfront bluffs, a 110-acre wooded wetland, meadows and shoreline on Esopus and Mirror lakes. In addition to safeguarding iconic views from the Hudson River and popular parks and historic attractions in Dutchess County (including Wilderstein and Staatsburgh State Historic Site), the transaction conserves habitats that make this one of the most biologically diverse places in the mid-Hudson Valley and an important resting and feeding site for migratory waterfowl.
Preserving this land, once proposed for a 396-unit residential development, offers broad potential to provide new opportunities for recreation—a foundation of the region's $4.8-billion tourism industry— including hiking, fishing, paddling, bird watching, cross-country skiing and snowshoeing, or simply admiring sweeping river views. The transaction further supports the local economy by ensuring that 35 acres fronting Route 9W remain available for commercial development.
The purchase is part of Scenic Hudson's collaborative campaign to Save the Land That Matters Most, protecting 65,000 acres of great scenic, ecological and agricultural significance.
Project highlights
Offers potential to provide exciting new recreational opportunities
Safeguards habitats that support the region's extraordinary biological diversity
Protects awe-inspiring views to and from the property 
Location
To view Esopus Lakes in relation to other nearby protected lands, download this map (pdf, 700k)