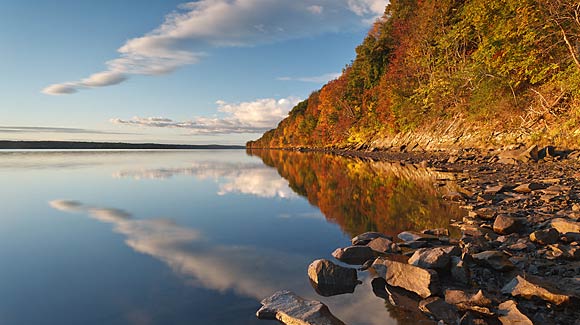 In June 2010, Scenic Hudson protected 194 riverfront acres, creating our new Falling Waters Preserve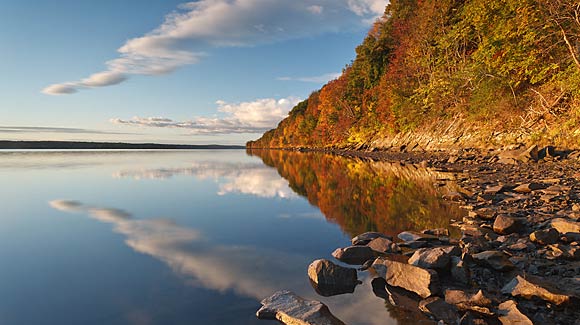 Hudson River shoreline at Falling Waters Preserve.Robert Rodriguez, Jr.
This stunning landscape features over a mile of unspoiled Hudson Riverfront as well as a stream, meadow, wetlands and hardwood forest. In addition to affording spectacular views of the river and Catskill Mountains, the land is prominently visible from popular tourist destinations such as Clermont State Historic Site, Montgomery Place and the Tivoli Bays National Estuarine Research Reserve.
Working closely with the Dominican Sisters of Sparkill (who generously donated a five-year conservation restriction on their property) and Saving the Land That Matters Most partner the Esopus Creek Conservancy, Scenic Hudson has now created the Falling Waters Preserve, augmenting an existing riverside trail system with new public pathways traversing upland terrain. A portion of the protected property safeguards Saugerties Marsh, which provides critical fish and waterfowl habitat.
The purchase is part of Scenic Hudson's collaborative campaign to Save the Land That Matters Most, protecting 65,000 acres of great scenic, ecological and agricultural significance.
Project highlights
Visible from popular historic and recreational sites
Allows creation of new public trails
Safeguards diverse wildlife habitats
Location
To view Falling Waters Preserve in relation to other nearby protected lands, download this map (pdf, 514k)