Imagine being enslaved for 29 years — beginning at the moment of your birth.
Imagine being subjected to cruelty that permanently scars your body.
Imagine having someone renege on his promise to let you be free.
This was reality for Ulster County-born Sojourner Truth — until the moment in 1826 when she literally walked away from bondage, taking the first steps toward becoming one of the nation's leading abolitionists and a civil rights and women's suffrage pioneer. "I did not run off, for I thought that wicked," Truth later explained. "But I walked off, believing that to be all right." She carried her infant daughter on the 11.5-mile walk.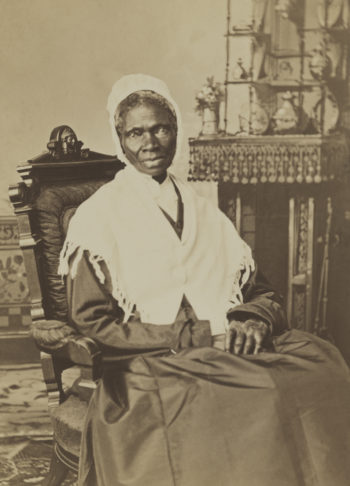 In 2020, Scenic Hudson installed an interpretive trail honoring Sojourner Truth at the Shaupeneak Ridge preserve, not far from the route of her escape up and over the ridge. The short woodland trail features 6 panels tracing the course of Truth's life. By highlighting her accomplishments, it seeks to educate and inspire others to continue her legacy. (Watch the video below to explore the trail and learn more about Truth.)
The trail was envisioned by Helena Mazurek, a Student Conservation Association member at Scenic Hudson, and developed in collaboration with other staff and community members. "I really wanted people to get to know Sojourner Truth as a person, and not some unattainable historical figure — how she was a really fiery, courageous person and used all that power to advocate for others," Mazurek says. "She spent her life giving to make things better for everyone. That level of generosity and compassion really drove her story home for me personally."
Mazurek also was impressed by Truth's fortitude during her escape. "I walked along Shaupeneak Ridge just the other day and was thinking a lot about how incredible it was she managed to achieve this carrying a baby," she says. "Attending to one while hiking around rather steep inclines at night where there are predators does not seem easy."
On a nearly cloudless morning in August 2020, members of Harambee gathered at Shaupeneak Ridge to bless the land over which the new trail passes. In a moving ceremony that included music, dance and words, participants recounted Truth's life and explained how her example has fueled their own activism.
"The biggest thing that I get from Truth's story is resilience, perseverance, strength and determination. These are the things that inspire me in my life, to never give up," Jessieca McNabb said. "Just when I think I'm too tired to keep going, I think of what she must have been going through to get what she had to get done. And that is what motivates me and keeps me going."
A new mobile app created by Black History Month Kingston, a partnership between the nonprofit groups MyKingstonKids and Harambee, offers a deeper dive into Truth's life. In addition to a self-guided tour of sites associated with her — those in good shape could trace Truth's entire walk to freedom — it features information about other prominent Black people who figured prominently in the history of Kingston and the Hudson Valley, as well as a regularly updated listings of events. Keeping the history going, in February 2022, the Ulster County Legislature designated every Nov. 26 to be Sojourner Truth Day.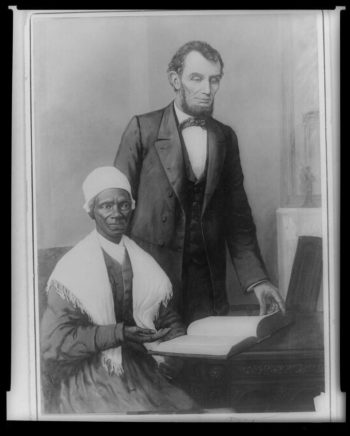 Visitors to Walkway Over the Hudson can celebrate Truth's accomplishments by pausing at a stirring sculpture, also unveiled in 2020 near the Highland welcome center. In addition to a larger-than-life representation of Truth, the bronze monument includes images of a young enslaved mother and child, a slavery sale sign and a poster for a women's suffrage march.
"The design is intended to provoke critical thinking, create a sense of place, and inform viewers that artistry is a powerful and useful tool of social transformation," sculptor Vinnie Bagwell says. "My hope is that visitors of this special place will be able to leave with the ability to appreciate and affirm the strength and beauty of ethnic, gender and cultural pluralism; and now — more than ever — feel a sense of responsibility for the future of liberty and freedom for all people."