Strengthening Our Impacts, Engaging New Partners
Beautiful parks where people can exercise and enjoy nature... Abundant supplies of fresh, local food at farmers markets... Citizen activists working together to preserve our land and water... Thanks to your support, Scenic Hudson continues to deliver these benefits—all of which make the Hudson Valley a better place to live and work.
It has been another year of extraordinary accomplishments. We protected stunning landscapes, important wildlife habitats and some of the region's most productive family farms. We rolled out our innovative Hudson Valley Conservation Strategy to make the region more resilient to a changing climate. Greater numbers of people are relying on our parks to experience the outdoors. And we played a major role in collaborative efforts that will result in the 2021 closure of Indian Point, making our communities and water safer.
We're strengthening partnerships to broaden our impacts within the valley's diverse communities, engaging new advocates for protecting natural treasures in their "backyards." These connections already have produced exciting and inspiring results. We're also bringing together new allies to help reverse the Hudson River's legacy of pollution and halt proposed industrial barge anchorages.
What is most gratifying about our work is that it motivates and empowers people to get involved and make a difference. You'll hear from some of these activists throughout this report. They—and so many others—are partners in Scenic Hudson's mission to secure a healthy, prosperous future for the Hudson Valley.
With thanks for your support,
—Kristin Gamble, Board Chair and Ned Sullivan, President, November 2017
Previous Annual Reports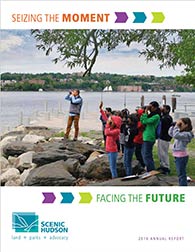 Download Scenic Hudson's 2016 Annual Report (PDF/9MB)
Download Scenic Hudson's 2015 Annual Report (PDF/2.9MB)


Download Scenic Hudson's 2014 Annual Report (PDF/3.4MB)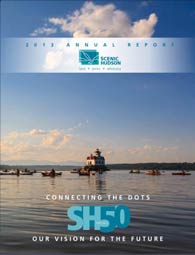 Download Scenic Hudson's 2013 Annual Report (PDF/4.3MB)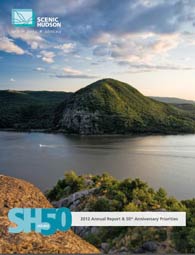 Download Scenic Hudson's

2012 Annual Report and 50th

Anniversary Priorities (PDF/2.8MB)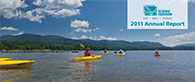 Download Scenic Hudson's

2011 Annual Report (PDF/1.3MB)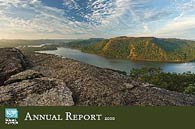 Download Scenic Hudson's

2010 Annual Report (PDF/4.4MB)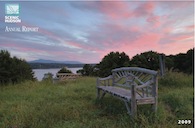 Download Scenic Hudson's

2009 Annual Report (PDF/2.1MB)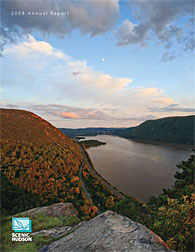 Download Scenic Hudson's

2008 Annual Report (PDF/2.6MB)
View Online or Download

Scenic Hudson's 2007 Annual

Report (PDF/2.6MB)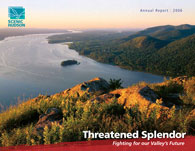 Download Scenic Hudson's 2006 Annual Report (PDF/2.6MB)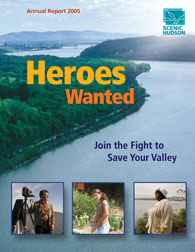 Download Scenic Hudson's 2005 Annual Report (PDF/2.6MB)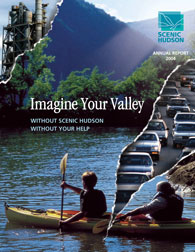 Download Scenic Hudson's 2004 Annual Report (PDF/2.6MB)