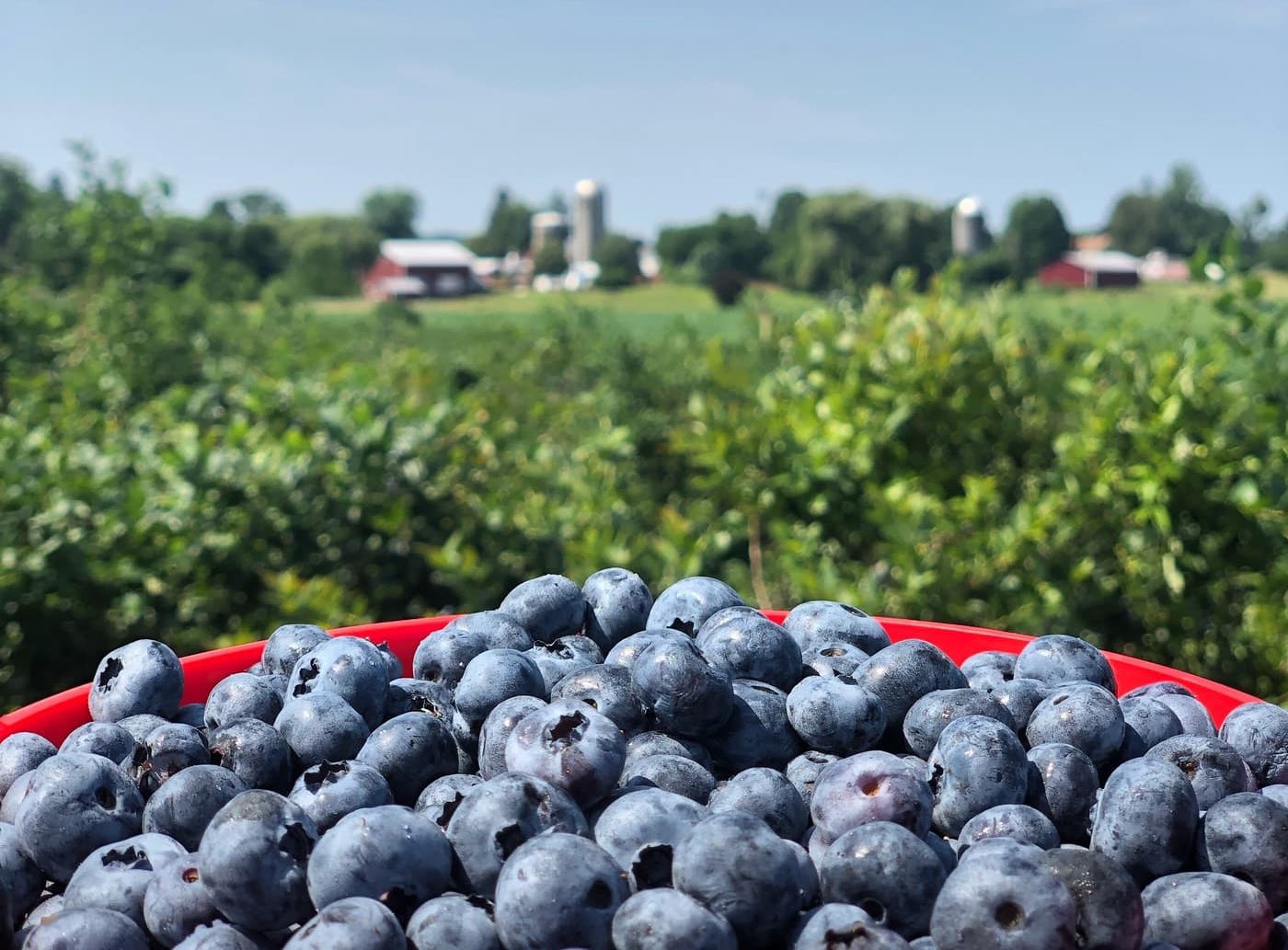 CAPITAL REGION (ALBANY & RENSSELAER COUNTIES)
Indian Ladder Farms
342 Altamont Rd, Altamont (Albany County)
At the base of the magnificent Helderberg Escarpment—and not far from John Boyd Thacher State Park (home of the exciting Indian Ladder Trail)—the 100-year-old farm offers you-pick berries, apples and pumpkins, as well as a market featuring crafts from local artisans, a café and a cidery and brewery whose beverages are made from the produce (including barley and hops) grown on the farm.
Engelke Farm and Garden
463 Garfield Road, Troy
Along with raspberries, strawberries and most seasonal vegetables (available for you-pick or at the farm stand), Engelke offers a big selection of plants and—New York State's second-longest zip line (reservations a must). Even those who refuse to eat their veggies will enjoy getting a birds'-eye view of the farm.
COLUMBIA COUNTY
Don Baker Farm
183 Route 14, Hudson
Once you've had your fill of antiques shopping on Warren Street, take a short drive to this family-operated farm for you-pick sweet and tart cherries in the summer and apples and pears come fall.
Fix Bros. Fruit Farm
215 White Birch Road, Hudson
At this fourth-generation family farm, you can pick cherries, peaches, apples and pumpkins. A big treat—tasting a McIntosh from a tree planted when the farm was established in 1899.
Philip Orchards
270 Route 9H, Claverack
When was the last time you picked apples (more than 15 varieties) or pears (five types) on land that's been farmed by the same family for more than 280 years? Many families come back here generation after generation to get their autumnal "fruit fix."
Samascott Orchards
5 Sunset Avenue, Kinderhook
Few farms grow as much as Samascott, whose bounty includes more than 70 varieties of apples alone. (It's also one of the few farms to offer gooseberries.) Add to the fun by renting a four-person surrey bike to pedal into the orchard. And don't leave this beautiful and historic town without visiting Samascott's Garden Market for scratch-made muffins, cobblers and ice cream.
Thompson Finch Farm
750 Wiltsie Bridge Road, Ancram
This fifth-generation family farm attracts pickers of organic strawberries and blueberries from across the Hudson Valley and throughout New England. Recently, Scenic Hudson partnered with its owners to ensure the land will always be available for agriculture—berries or otherwise.
DUTCHESS COUNTY
Barton Orchards
63 Apple Tree Lane, Poughquag
Pick whatever whets your appetite (the farm grows everything from apples and eggplants to tomatoes and pumpkins) and then start horsing around—with Fido in the dog park, with the kids in the corn maze, or by yourself on the aerial obstacle course.
Cedar Heights Orchards
8 Crosby Lane, Rhinebeck
You can taste history by biting into an heirloom apple or sample a newer variety—all plucked from trees on this hilltop orchard that affords outstanding, long-distance views.
Fishkill Farms
9 Fishkill Farm Road, Hopewell Junction
Founded by Henry Morganthau, Jr., Secretary of the Treasury during Franklin Roosevelt's presidency (and visited by FDR and Winston Churchill), Fishkill Farms grows berries, peaches and apricots, apples and lots of other organic produce—which you can pick or pick up at the farm store.
Greig Farm
227 Pitcher Lane, Red Hook, NY 12571
Strawberries, blueberries, blackberries, apples, pumpkins—Greig Farm always has something available for picking throughout the growing season. It also features a café with a farm-to-table menu, an art gallery, a kid-friendly family of pygmy goats and (no fooling) an airstrip for those who feel like "dropping in" from the sky.
Mead Orchards
15 Scism Road, Tivoli
In addition to growing approximately 40 varieties of apples, as well as peaches, plums, pears, cherries, berries, and assorted vegetables, the farm affords eye-popping views of the Catskill Mountains.
Rose Hill Farm
19 Rose Hill Farm, Red Hook
This family-owned fruit orchard established in 1798 (and protected by Scenic Hudson 200 years later) grows cherries, blueberries, peaches, plums, apricots, nectarines and apples available for picking on over 100 acres of picturesque land.
ORANGE COUNTY
Apple Dave's Orchards
82 Four Corners Road, Warwick
Choosing among 11 varieties of apples to pick is just part of the fun—the farm also offers wagon rides, puppet shows, live music and face-painting.
Apple Ridge Orchards
101 Jessup Road, Warwick
Along with pick-your-own apples, peaches and pumpkins, the farm features honey bee observation hives, farm animals to pet, hayrides and a cornfield for kids to get lost in, while a farm stand features fresh-pressed apple cider and apple cider donuts.
C. Rowe and Sons
113 Station Road, Campbell Hall
In family ownership for over six generations, the farm offers you-pick strawberries, peas and beans, and offers sweet corn, tomatoes and other fresh vegetables at a farm market.
Halfway Acres
200 Purgatory Road, Campbell Hall
A destination for you-pick blueberries… As the farm's website says, "Our bushes have NOT been sprayed, fertilized, or touched with anything other than the rain that God brings from the sky."
Lawrence Farms Orchards
306 Frozen Ridge Rd, Newburgh
There's always something ripe for picking here—including strawberries and peas in June, cherries and peaches in July, plums and raspberries in August, apples and eggplants in September, and pumpkins in October.
Masker Orchards
45 Ball Road, Warwick
More than a dozen varieties of you-pick apples combined with pony rides, a haunted house and live music.
Ochs Orchards
4 Ochs Lane, Warwick
In addition to you-pick strawberries, blueberries, peaches and apples, a farm store offers more homegrown fruits and vegetables, as well as homemade donuts and ice cream. Views from the farm, in its fourth generation of family ownership, are outstanding.
Soons Orchards
23 Soons Circle, New Hampton
For apple-picking fanatics, Soons is the place to go—it features more than 55 apple varieties, not to mention 20 types of peaches and nectarines. It also offers other homegrown and local fruits and vegetables; homemade pies, donuts and fudge; and the Orchard Hill Cider Mill, whose hard cider is made from Soons apples.
ROCKLAND COUNTY
Dr. Davies Farm
306 Route 304, Congers
In operation since 1891, the orchard sports 4,000 trees, meaning there's always plenty of apples—20 different varieties in all—to pick. It also offers fresh-picked corn, tomatoes and other vegetables at a farm market, and provides a corn maze and hayrides to further entice those in search of the perfect Halloween pumpkin.
The Orchards of Concklin
2 South Mountain Road, Pomona
Nicholas Concklin established a farm here in 1711. Today in the 10th generation of family ownership, the orchard offers 15 varieties of apples for picking in September and October.
ULSTER COUNTY
Apple Hill Farm
124 Route 32 South, New Paltz
Kids will love the hayrides, adults the spectacular views of the Shawangunk Ridge and Catskill Mountains—and everyone will appreciate the apples and mulled apple cider donuts.
Dressel Farms
271 Route 208, New Paltz
You-pick strawberries in June, apples in September and October, and a panoply of homegrown produce all the time in its farm store. Two additional treats—tastings at the on-site Kettleborough Cider House (whose hard cider is made from the farm's apples) and breathtaking views of the Shawangunks.
Dubois Farms
209 Perkinsville Road, Highland
When a farm offers you-pick fruits, vegetables and flowers; handmade baked goods; a two-acre corn maze; a child-sized village for the kids; tractor-pulled wagon rides; and a tavern offering a variety of local ciders, craft beers and wines, what's not to like?
Hurds Family Farm
2187 State Route 32, Modena
Along with more than 15 varieties of apples to pick (from), this seventh-generation family farm packs in the family fun, offering two corn mazes, a cow train and hayride, an apple launcher, rubber duck derby and a giant slide.
Jenkins-Lueken Orchards
69 Yankee Folly Road, New Paltz
What's on tap? Pick-your own berries and over 20 varieties of apples, along with pears, peaches, nectarines, plums and cherries—as well as baked goods and cider (both hard and non-alcoholic) made from the farm's bounty. Yum all around! FYI, it's not far from Minnewaska State Park and Mohonk Preserve.
Kelder's Farm
5755 Route 209, Kerhonkson
When a farm has been in business since 1799 and is home to the world's largest garden gnome, that's reason enough to visit. More reasons—pick-your-own fruits and vegetables, kid-friendly activities (like a jumping pillow and petting farm), hayrides and a corn maze, and your chance to fire a cannon that shoots apples at 100 mph!
Maynard Farms
326 River Road, Ulster Park
Just down the road from our Esopus Meadows Preserve and High Banks Preserve, this is a great place to stop and stock up on apples on your way home.
Minard's Family Farm
250 Hurds Road, Clintondale
Hop on the hay wagon, head out to the orchard and pick to your heart's content. But don't be surprised if the kids are more interested in the activities geared toward young minds and bodies—from a bouncy pillow and petting zoo to pumpkin bowling and a tire mountain.
Prospect Hill Orchards
340 Milton Tpk. Milton (cherries and peaches)
73 Clark's Lane, Milton (apples)
Nathaniel Clark established this farm in 1817. Today, the sixth and seventh generations of his family operate it, providing visitors with the opportunity to pick cherries, apricots, nectarines, peaches, plums, pears and apples. Special events include Kids Days (with face painting, crafts and other activities) and an old-fashioned cider pressing.
Saunderskill Farms
5100 Route 209, Accord
When was the last time you picked berries or apples grown on land farmed by the same family for 11 generations? Started in 1680—and one of the few U.S. farms to receive the Department of Agriculture's "Tricentennial Award"—Saunderskill also offers homegrown vegetables and flowers as well as fresh-baked goods made from the farm's bounty at its store/café.
Stone Ridge Orchard
3120 Route 213, Stone Ridge
This 200-year old working farm in the heart of the Rondout Valley offers pick-your-own apples, pears and berries, as well as additional fruits, vegetables and food products from nearby farms at its Gourmet Farm Market.
Tantillo's Farm
730 Route 208, Gardiner
Along with you-pick cherries, apples, pumpkins and tomatoes, this fourth-generation family farm offers a large additional selection of produce from its own fields and other local farms. Tantillo's also is known for homemade pies and cider donuts, best eaten at one of its picnic tables while enjoying a panoramic vista of the Shawangunks.
Weed Orchards & Winery
43 Mt. Zion Road, Marlboro
Operated by the same family since 1913, the farm offers pick-your-own peaches, nectarines, plums, apples and vegetables, as well as a bakery, cafe, petting zoo, corn maze, playground and winery. And often on tap—a special festival and live music…
Westwind Orchard
215 Lower Whitfield Road, Accord
A great first-date place for foodies—pick berries, apples or pears and then retreat to the Tasting Room for farm-to-table fare (including wood-fired pizza) washed down with hard cider made from the orchard's apples.
Wilklow Orchards
341 Pancake Hollow Road, Highland
You can pick more than a dozen varieties of apples while the kids enjoy a petting zoo, hay jump, tunnels and a "greenhouse of fun." When the work and play is done, all can munch warm apple cider donuts.
Wright's Farms
699 Route 208, Gardiner
This sixth-generation family farm produces 100,000 bushels of apples annually, meaning there will be plenty for you to pick. (You also can pluck four varieties of cherries.) Folks flock to the homemade baked goods in its store, while at the on-site Gardiner Brewing Company you can sample the beers and enjoy live music.
WESTCHESTER COUNTY
Outhouse Orchards
139 Hardscrabble Road, North Salem
Family-owned since the late 1800s, the farm offers pick-your own apples, peaches, pears and pumpkins, along with hay rides and a corn maze.
Stuart's Fruit Farm 
62 Granite Springs Road, Granite Springs
Operated by the same family since 1828, it's the oldest farm in continuous operation in Westchester. A farm stand offers fresh produce—and homemade pies and apple cider donuts. Its orchards become a mecca for apple picking (and hayrides) in the fall. It's also a destination for pumpkins and Christmas trees.
Wilkens Fruit & Fir Farm
1335 Whitehall Road, Yorktown Heights
Operated by the Wilkins family since 1916, the farms offers pick-your-own peaches, plums, nectarines, pears, over 40 varieties of apples, pumpkins, and Douglas and Fraser fir Christmas trees. There's also a bakery featuring apple cider donuts, strudel sticks and fruit pies, and a farm market with fresh produce and cider.