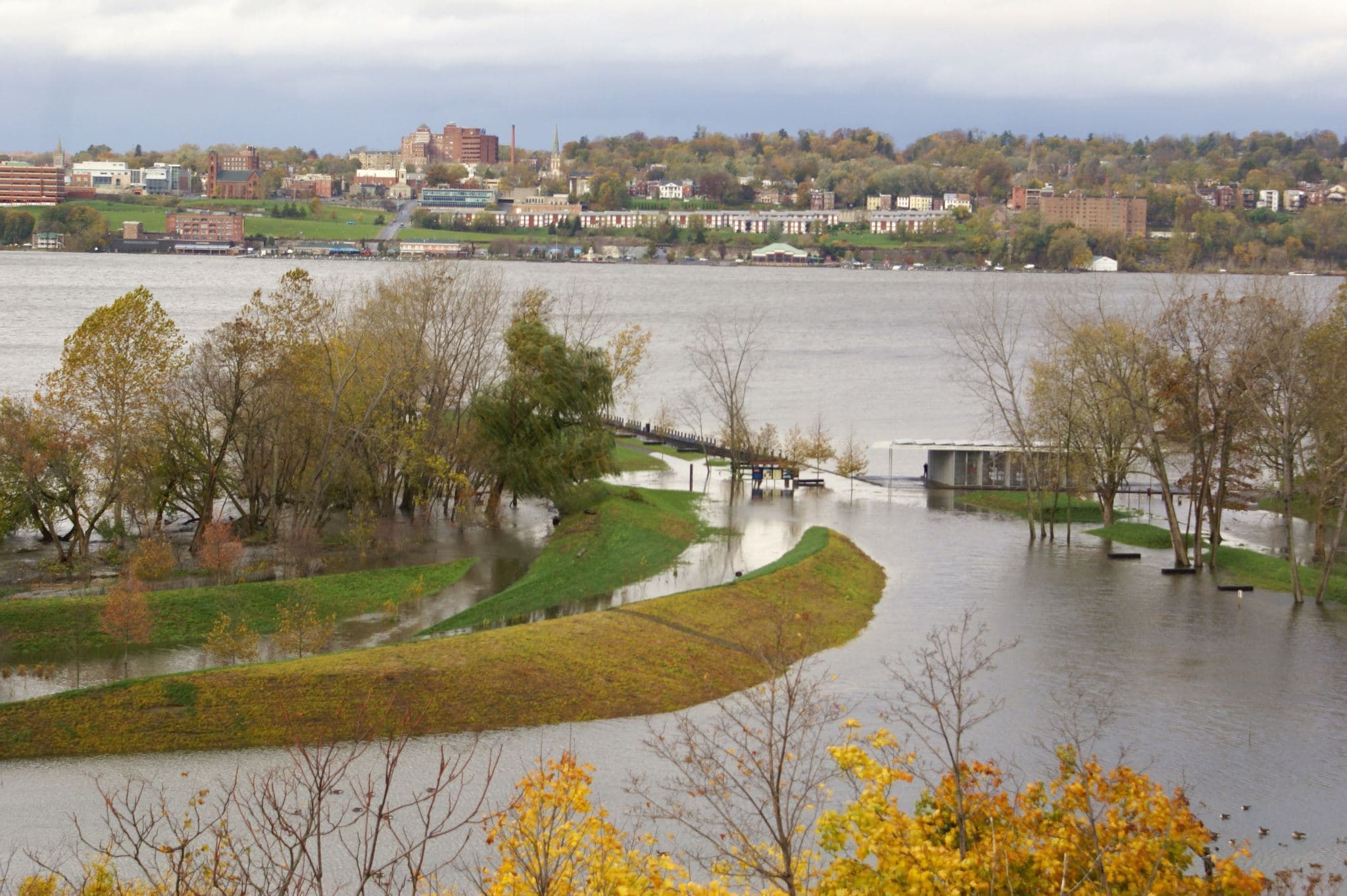 During a recent walk along the Hudson River Brickyard Trail in Kingston, the magnificent views I normally enjoy were shrouded in smoke that had blown cross-country from the massive wildfires in the West. Shortly after, during a family visit to the Pacific Northwest, we had to check the state fire and air quality maps each day to ensure we would not be crossing into dangerous territory in our travels.
These two experiences really brought home to me that no one, no matter where you live, is immune from the devastating impacts of the climate emergency.
Beyond the tipping point
Climate scientists have long talked about a "tipping point." According to the report of the United Nations Intergovernmental Panel on Climate Change (IPCC), released on August 9, we've passed it. The report says that the most catastrophic climate impacts — withering heat waves, massive wildfires, severe flooding — are irreversible. However, in a call to arms, the report states that we can ensure things don't get worse by vastly reducing greenhouse gas emissions ASAP.
Concerted action critical
President Biden has proposed the most aggressive climate policies and initiatives of any U.S. president. They include reducing greenhouse gas emissions 50% by mid-century, tightening auto emissions standards, and rolling back the previous administration's rules allowing unchecked methane emissions from the oil and gas industries, and nature-based solutions such as managing forests and agriculture to sequester carbon. These and other climate initiatives are important; they will create jobs, and they must be implemented. All would have been great news 15 years ago, when Al Gore and the IPCC first went public with their dire climate forecasts. While Gore and the panel were awarded the Nobel Peace Prize, too few heeded their alarm, and now we find ourselves facing an existential crisis.

To plan a concerted action against it, President Biden must elevate his leadership. Here are three ways he can start.
#1: Begin a rapid mobilization
He should deploy all branches of government — including the military — to extinguish the wildfires in the western U.S. that are torching homes and communities and polluting the nation's air. He also should order an all-out effort to reduce risks from future disasters. According to the U.S. Forest Service, 80 million acres of its lands alone are at risk from devastating fires or abnormal levels of disease from insects and other pests. In this regard, we could learn much from Indigenous peoples. For thousands of years they have employed the practice of setting deliberate, managed fires that not only clear shrubs and dead wood that fuel uncontrollable wildfires but make the land more productive.

#2: Establish a climate-based foreign policy
President Biden also must define his foreign policy legacy by making climate change the central priority of our international relations. Where is John Kerry, his special envoy for climate? One hopes he is working behind the scenes, forging alliances to address the issue, but he has been out of sight since the president convened 40 world leaders at his Climate Summit in March. As relations between the U.S. and China — the top two emitters of greenhouse gases — deteriorate over trade and other issues, we are literally fiddling while Rome burns.

#3: Rally the nation
Perhaps the biggest task facing the president is convincing all Americans, whatever their political views, that climate change is real and impacts everyone, whether they live in flood-ravaged Tennessee, the drought-stricken Great Plains, or scorched northern California. He must urge us to do our part in reducing carbon emissions by transitioning to solar power, electric vehicles, and energy conservation. During World War Two, President Roosevelt urged Americans on the home front to support the war effort by recycling metals and other essential materials. They responded enthusiastically, as did industries that speeded up production of warships, airplanes, and armaments.
What if the president tapped the world's mega-billionaires to focus their financial resources on producing the technology needed to confront the climate crisis, which disproportionately affects those most vulnerable to the ever-widening wealth gap? Great results could be achieved by bringing them together with environmental justice advocates like Dr. Robert Bullard, Rhiana Gunn-Wright and other climate policy experts, scientist Kate Marvel and her cohorts at top research institutions, young advocates such as Greta Thunberg, and federal and state leaders in a collaborative effort.
President Biden is clearly committed to reversing global warming. But its dire impacts — to public health, immigration, the economy, and on displaced and vulnerable populations — call for a dramatic, immediate increase in the intensity and breadth of action. We must treat this issue as the threat to our survival that it is by confronting it head-on. I have no doubt the economy, jobs, and public spirit will respond to the leadership our president must provide at this crucial moment.
Stay safe and stay strong,