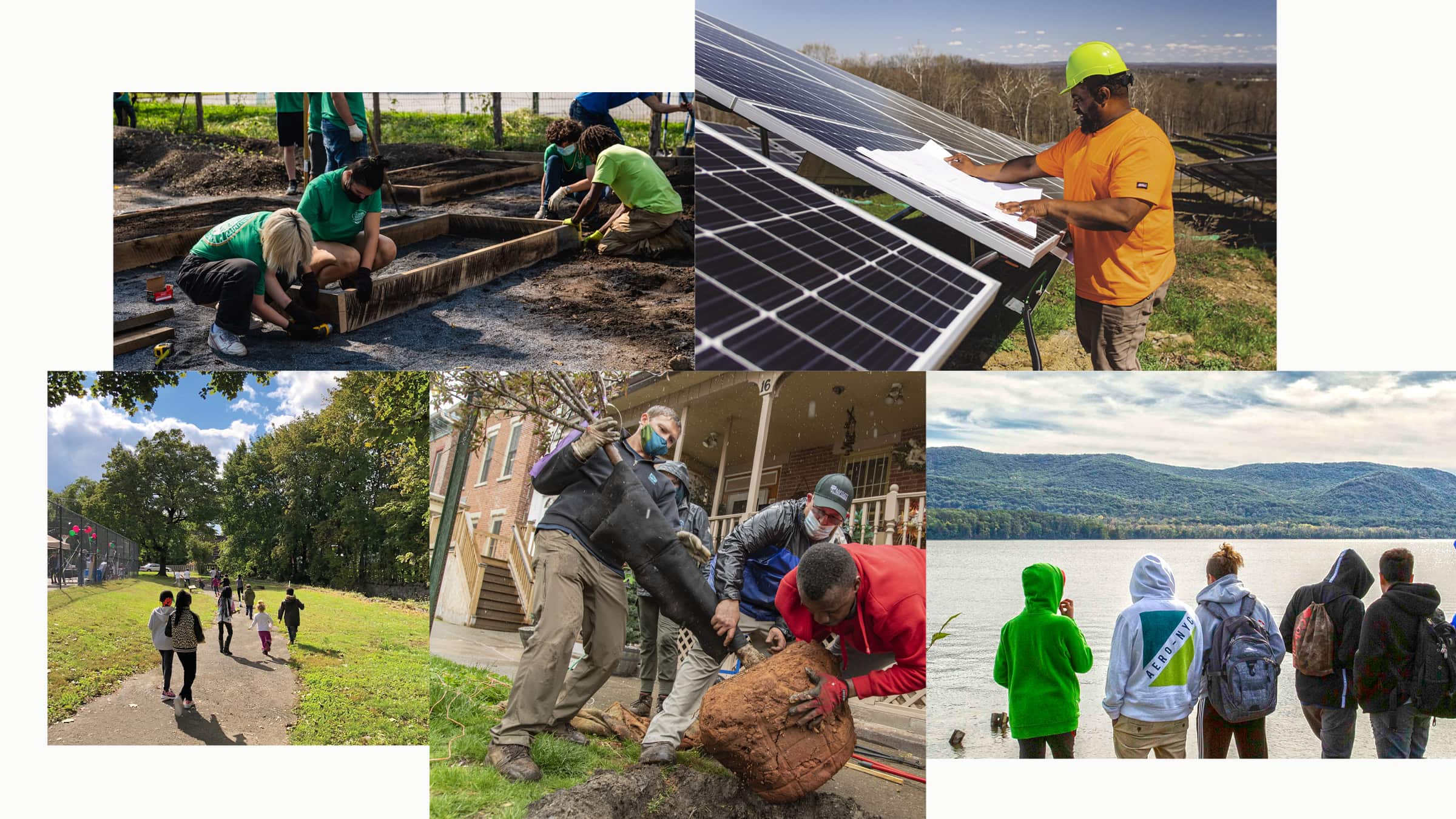 Organization committed to amplifying impacts to confront unprecedented threats to valley, planet
Initiative coincides with new board leadership
For Immediate Release
Contact:
Ned Sullivan, President
914 489 4630; nsullivan@scenichudson.org
HUDSON VALLEY—Responding to the increasing urgency to confront unprecedented threats to the planet, environment, and local communities, Scenic Hudson has launched a multi-year Climate and Environmental Justice Initiative to amplify its impacts in:
Addressing climate change and environmental justice;
Giving residents tools to create healthier, resilient neighborhoods;
Transforming formerly polluted industrial sites into new public spaces; and
Preserving habitats and ensuring equitable access to clean air, fresh water, and open space.
"This initiative will position Scenic Hudson at the forefront of developing natural climate solutions, addressing environmental inequities in valley cities, and working with local changemakers to ensure the full scope of our work benefits all of the region's residents. Collaboration — with governments, fellow organizations, and community members — will be essential to achieve its goals. By strengthening relationships and ramping up our own capacity, I'm confident Scenic Hudson can lead the way toward a healthier, more equitable valley and planet," says Scenic Hudson President Ned Sullivan.

"Climate change poses an existential threat to our Hudson Valley waterfronts, habitat, communities, and working farms. At the same time, systemic inequity and environmental injustice continue to hamper progress in lifting up its river cities and towns and the people who inhabit them. Relying on Scenic Hudson's expertise in devising innovative solutions to complex environmental challenges, combined with our ability to forge effective partnerships, the Climate and Environmental Justice Initiative uniquely positions Scenic Hudson to boost our leadership into a new orbit to confront these issues and make the valley a national model for overcoming them," says Scenic Hudson Board Chair Richard Krupp.

"We are staunchly committed to making the Hudson Valley a greater place for everyone to live, work, and play by preserving and strengthening its great assets: beautiful open spaces and working farms, historic cities and thriving town centers, and habitat essential for sustaining wildlife and mitigating climate change," adds Alexander Reese, chair of the Scenic Hudson Land Trust Board.

Ardent environmentalists head Scenic Hudson boards
Both ardent environmentalists, Richard Krupp and Alexander Reese were newly appointed to their leadership positions. Richard Krupp is managing partner of Pierpoint Capital, a firm he co-founded to invest in differentiated healthcare technology and advanced manufacturing businesses. In his role, he works with and serves on the board of Coreflow, an aeromechanical manufacturing equipment company based in Israel. He also continues a decade-plus role as managing director of the Krupp Family Office, where he oversees operations and investments as well as serves on the board of Berkshire Residential Investments, an investment management company with national presence. He and his family live in New York City and spend weekends and summers at their home in the Hudson Valley. Mr. Krupp joined the Scenic Hudson Board of Directors in 2014 and served as its co-vice chair from 2016-2021.

The son of the late Frances "Franny" Reese, a longtime Scenic Hudson Board member and the organization's "guiding spirit," Alexander Reese is the founder of Obercreek Farm, which grows certified organic vegetables, and Obercreek Brewing Company in Hughsonville (Dutchess County). The farm is located on land that has been in his family for six generations. Mr. Reese also is a member of the Board of Directors of the Glynwood Center for Regional Food and Farming and co-chair of Boscobel Restoration, as well as a member of the board of RealSkills in Poughkeepsie. He has a background in finance, real estate, and private equity. Mr. Reese has served on Scenic Hudson's board since 2008 and the Land Trust board since 2013. He was co-vice chair of the former from 2014-19 and vice chair of the latter from 2016-21.

"Richard and Alex have both shown outstanding leadership during their prior years of service to Scenic Hudson. I have no doubt they will propel the organization into a new orbit as we commence our Climate and Environmental Justice Initiative," said Mr. Sullivan.

Initiative targets achieving long-term goals
In addition to intensifying its traditional work, Scenic Hudson is investing significant additional resources to achieve the ambitious long-term goals of its Climate and Environmental Justice Initiative. These include:
Growing its River Cities initiatives in Poughkeepsie, Newburgh, and Kingston, where more than 40 local partners already have united to revive neighborhood green spaces, create urban farms, and plant street trees.
Partnering with the local community and New York State to transform the 520-acre riverfront property in Ulster County that Scenic Hudson protected in 2019 into a new state park, providing a magnificent place for residents of Kingston and surrounding communities to connect with nature.
Promoting bike-friendly infrastructure and trail systems that foster inclusive community connections. These include completing ongoing collaborative projects to fill in a "missing link" in the Westchester RiverWalk (beneath the Gov. Mario M. Cuomo Bridge) and complete the 2.7-mile Urban Trail in Poughkeepsie.
Deploying science-based natural climate solutions emerging from the Northeast Carbon Alliance — a consortium of land managers, scientists, and public policy experts launched by Scenic Hudson to explore how carbon-smart farming and forestry can sequester and even reduce greenhouse gas emissions.
Encouraging more communities to embrace large-scale renewable energy by adopting strategies in Scenic Hudson's How to Solar Now toolkit for responsible siting of projects.
Rehabilitating former industrial structures on Poughkeepsie's Northside into staff workspace and indoor and outdoor public space for community gatherings, meetings, events, and educational activities.
Leading regional efforts to achieve the federal administration's 30×30 initiative — conserving 30% of the nation's lands and waters by 2030 — and strongly supporting the 30×30 commitment to tackle environmental injustice by addressing the disparity of green space in less-wealthy communities and communities of color.
New leadership
In addition to Mr. Krupp and Mr. Reese, the following also were recently appointed to leadership positions in the organization. Full bios of all board members are available here.

SCENIC HUDSON OFFICERS & DIRECTORS
Carl H. Loewenson, Jr., Co-Vice Chair — Partner in NYC law firm Morrison & Foerster; former member, NYS Ethics Commission; former Assistant U.S. Attorney, Southern District of NY

Usha Wright, Co-Vice Chair — President/board chair of SHAREAfrica (dedicated to improving lives of children and communities in Africa) and board member of Eastern Environmental Law Center

Edward B. Whitney, Treasurer — Board member of American Rivers and New York-New Jersey Trail Conference; Advisory Board member of Constitution Marsh Audubon Center and Sanctuary (Putnam)

Judah S. Kraushaar, Asst. Treasurer — Investment banker, author, and co-owner (with wife Michele) of Meadowland Farm (Dutchess), where emerging farmers pursue their passion for growing food

Mario Johnson, Secretary — Director of Upward Bound, Marist College; former Poughkeepsie schools administrator and elected official in city, Dutchess County government

SCENIC HUDSON LAND TRUST OFFICERS & DIRECTORS
Dawn Watson, Vice-Chair — Fine art photographer and director of the Davada Foundation, advocating for environmental, cultural, and health initiatives.

Edward B. Whitney, Treasurer — See bio above

Rudolph S. Rauch III, Secretary — Former TIME magazine correspondent and bureau chief and publisher of Opera News; director and secretary of Hudson Highlands Land Trust

"The dedication of Scenic Hudson board officers and members to share their time and expertise inspires the entire staff, and their eagerness to move forward with the Climate and Environmental Justice Initiative is truly gratifying. They will play a crucial role in guiding its success, and based on their initial enthusiasm and leadership of this ambitious undertaking, I am confident we will succeed," says Mr. Sullivan.