Scenic Hudson Protects 180 Riverfront Acres Adjacent to Sojourner Truth State Park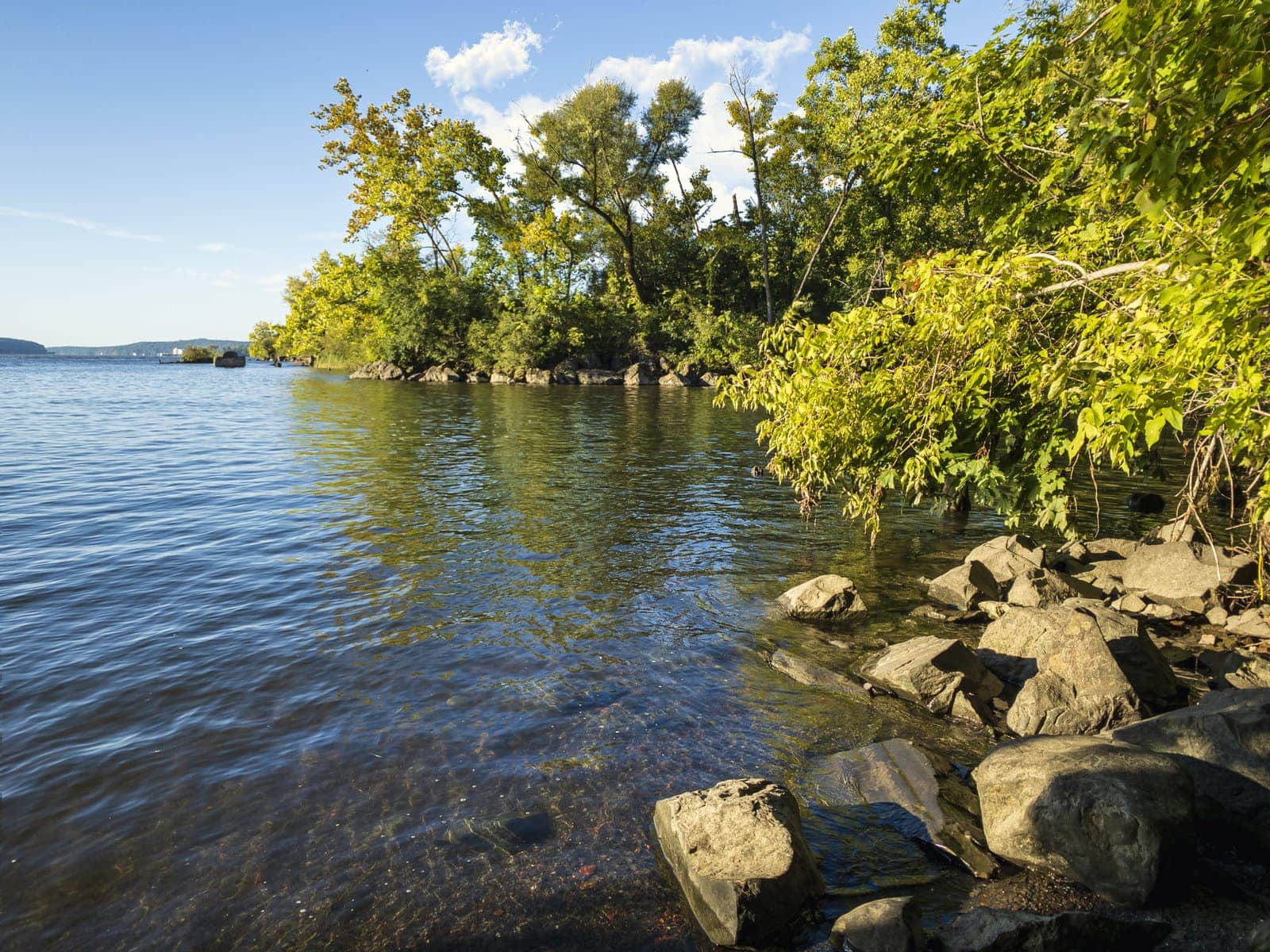 Site of historic brick-making industry offers potential to increase public access to the river, conserve important habitats
For Immediate Release
CONTACT:
Riley Johndonnell, Director of Communications
845 473 4440 Ext. 222
rjohndonnell@scenichudson.org

TOWN OF ULSTER (Ulster County) — Achieving many scenic, ecological, and potential recreational benefits while strengthening local resiliency to climate impacts, Scenic Hudson has protected 180 acres — including nearly a mile of Hudson Riverfront — in the Town of Ulster. Located adjacent to Sojourner Truth State Park, whose lands Scenic Hudson protected in 2019, the site also contains remnants of a historic brick-making industry.
Because of its extraordinary variety of land features — including ridges, coastal lowlands, wetlands, and a stream — the land provides habitat for numerous rare, threatened, or endangered species. It also will facilitate the inland migration of wildlife from flooded habitats, a likelihood since a portion of the site will be inundated under current sea level rise scenarios. For these reasons, the land is a "must-save" priority — receiving a 100% irreplaceability rating in Scenic Hudson's Hudson Valley Conservation Strategy.
The protected land also offers the potential to enhance recreational opportunities. With its proximity to Sojourner Truth State Park and the Hudson River Brickyard Trail/Empire State Trail, it presents enticing possibilities to responsibly increase river access for residents of the hamlet of East Kingston, the Town of Ulster, and the City of Kingston, as well as for visitors who sustain the local tourism economy. In fact, when combined with the state park, this land would create one of the longest stretches of publicly accessible riverfront in the Hudson Valley.
Until the completion of site stabilization work, the land will remain off-limits to the public.
Land contributes to outstanding views
In addition, the newly conserved land contributes to magnificent vistas from many popular viewpoints. It is prominently visible from the Hudson River and Kingston-Rhinecliff Bridge, as well as numerous destinations for outdoor enjoyment and exploring nature, including Kingston Point Park, Scenic Hudson's Poets' Walk Park in Red Hook, and the fire tower in Rhinebeck's Ferncliff Forest. 
Funders who provided generous support for Scenic Hudson's acquisition of the land include Astor Courts Estate, The Peter and Carmen Lucia Buck Foundation, Peter Hofmann M.D. and William Burback, Will Nixon, The Lozen Foundation, Lucy Rockefeller Waletzky M.D., Tatiana Kaletsch, and Stew Meyers.
Scenic Hudson President Ned Sullivan said, "Acquiring this land builds upon Scenic Hudson's 60-year commitment to protecting and connecting people to the Hudson Valley's natural and historic treasures, places critical for gaining a better understanding of the region's past and observing its fascinating and varied wildlife. I thank the many donors who provided funds critical for permanently conserving this 'must-save' landscape and allowing us to take initial steps that will make it another great destination for the public to experience the Hudson River's power and majesty."
Executive Director of The Scenic Hudson Land Trust, Inc. and Land Programs Seth McKee said, "This site exemplifies so many goals of Scenic Hudson's land conservation work — safeguarding irreplaceable habitats, strengthening the resiliency of river shorelines threatened by rising sea levels, and increasing public access to those special places where the region's natural beauty and history converge. As with all of the properties Scenic Hudson conserves, this land also has outstanding potential to provide local residents, and the entire mid-Hudson Valley, with significant health, quality-of-life, and economic benefits in the years to come."