The Challenges of Green Gentrification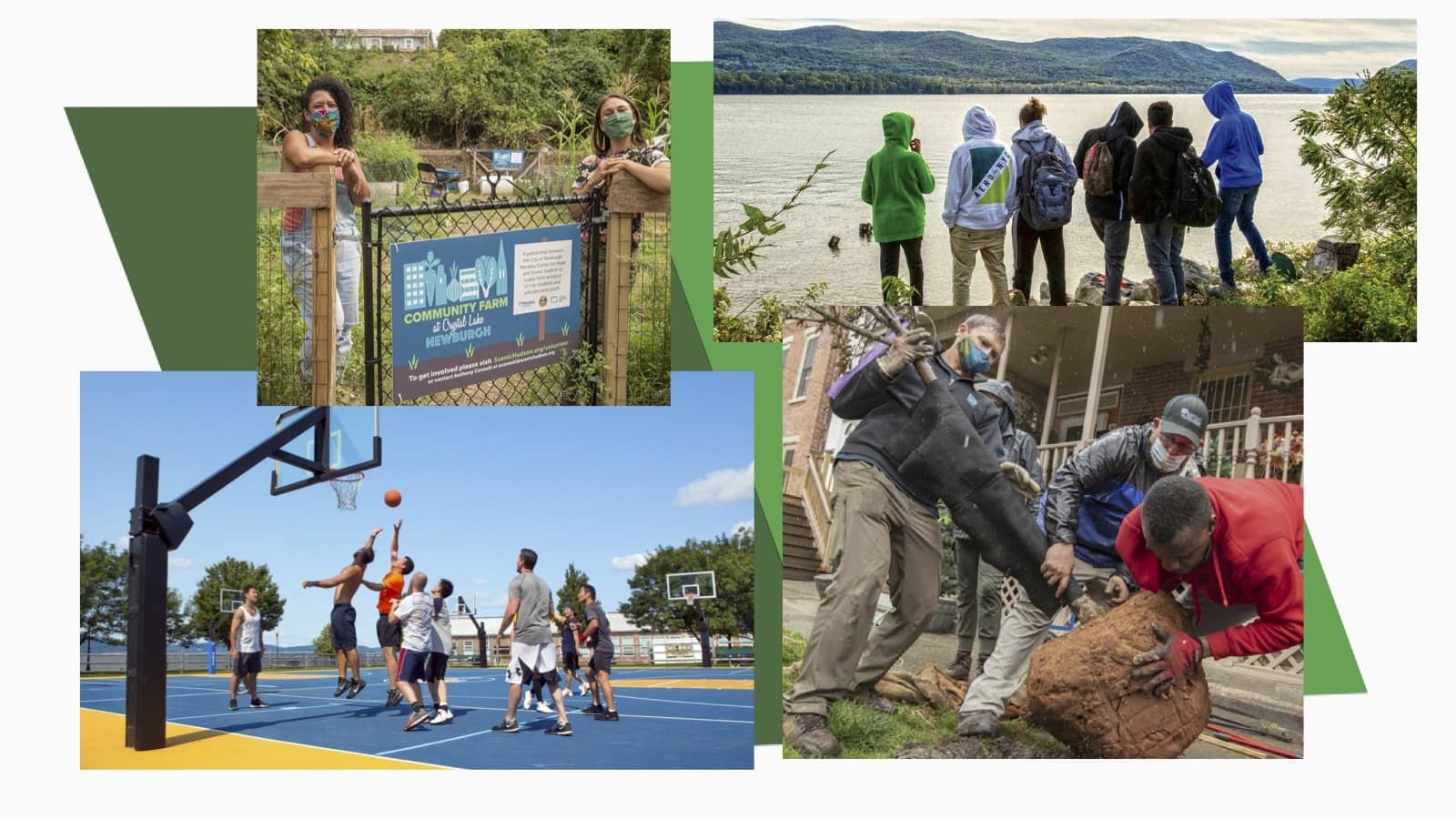 Scenic Hudson is engaged in collaborative projects in Poughkeepsie, Newburgh, and Kingston. Together with local partners, our work includes:
creating new parks and refurbishing existing ones;
restoring river tributaries that have been dumping grounds for decades, and planning greenways along them;
establishing urban farms; and
planting trees along neighborhood streets.
The challenge we face is how to carry out these projects without negative consequences such as driving out or displacing the people we want to see benefit from them — the communities' current residents. In other words, how do we avoid green gentrification?
New spin on old problem
Coined in 2004, the concept of green gentrification puts a new spin on an old problem. Historically, disenfranchised populations in urban America have experienced environmental injustice — disproportionate threats from air and water pollution, exposure to toxic wastes, flooding, and more.
Yet when cities and others take steps to eliminate these hazards, making neighborhoods more attractive and habitable, long-time residents often wind up being priced out. Gentrification was the goal of many misguided 1970s urban renewal projects that replaced entire city blocks (pejoratively called slums) with high-rise apartment towers. For those forced from their homes, one injustice was substituted for another.
Efforts to create new open space and opportunities for recreation in crowded cities sometimes lead to unintended impacts; green gentrification is just another form of environmental and economic injustice. Some have pointed to Manhattan's High Line as a spectacular and transformative project that turned a rusting overhead rail line into a real tourist magnet. But it also has led to a 35% rise in housing prices around it. Who gets to walk out their front door and enjoy it? Not the city's less affluent residents.
Listening, learning key to success
What can be done to halt green gentrification? To begin with, better planning and more collaboration — between communities, their residents, governments, environmental and social justice organizations, and housing advocacy groups. For example, new parks could be accompanied by new affordable housing or restrictions on replacing current housing with higher-priced development. Programs could help increase home ownership by, among other things, offering down-payment assistance. Accompanying the creation of new parks with job training, educational opportunities, and support for small businesses can also make a huge difference according to a recent study.
On a more basic level, confronting green gentrification requires us to do a better job of listening to those who will be most impacted by our work. A priority of Scenic Hudson's River Cities program is to include community members in the decision-making process from the outset, so outcomes truly reflect their vision and needs. In Poughkeepsie, this approach spurred creation of a new community garden. In Kingston, it is shaping the planning of the new state park we're partnering to create.
Finally, it is absolutely critical to empower residents to make their voices heard by planning boards and other decision-making bodies. Grass-roots organizing and education are vital to making this happen and to ensuring that elected officials listen to and stand up for the interests of long-time, historically disenfranchised residents.
I admit that Scenic Hudson has a long journey ahead and we're learning as we go. What's crucial is that we listen and learn together. These learning opportunities can be uncomfortable, but environmental and social justice will never happen until we push beyond our comfort zones and work for active and dynamic change in the communities we seek to serve.
Stay safe and stay strong,

PHOTO CAPTIONS (clockwise from upper left): The new stewards of the Sanctuary Healing Farm at Crystal Lake in Newburgh (Tyler Blodgett); students at the Newburgh waterfront (Eva Deitch); basketball game at the Scenic Hudson Park at Irvington (John Halpern); street tree planting in Newburgh (Tyler Blodgett).