Hudson River Access Plan Outlines Ways to Increase Public Enjoyment of the River and Improve Rail Safety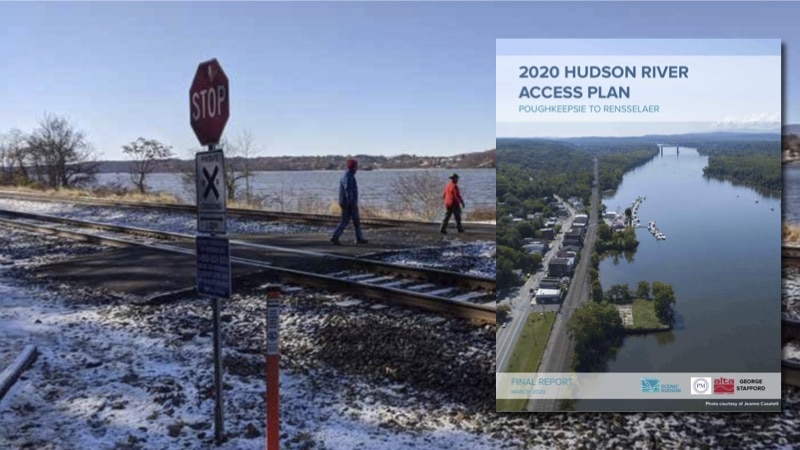 CONTACT: J. Jeffrey Anzevino, Director of Land Use Advocacy: 845-332-6566; janzevino@scenichudson.org
FOR IMMEDIATE RELEASE
HUDSON VALLEY—Perhaps more than ever before, the current health crisis has demonstrated the power of nature to provide solace and a respite from stress, while also highlighting the urgency to stop plans that would limit public enjoyment of the region's natural treasures. Permanently safeguarding long-cherished connections to the Hudson River and securing new places for people to walk, fish, launch boats and hunt along its shore are the goals of the new Hudson River Access Plan commissioned by Scenic Hudson.
The plan provides perhaps the most comprehensive evaluation ever—and the first undertaken in more than 30 years—of existing public access along the river's rail corridor between Poughkeepsie and Rensselaer. It also suggests locations for new shoreline access and recommends ways to improve crossing the rail lines safely.
By ensuring safe rail travel and continued, safe river access, the Hudson River Access Plan offers a "win-win" alternative to Amtrak's proposal to erect new impasse fencing and locked gates at locations between Rhinecliff (Dutchess County), Stuyvesant (Columbia) and beyond. In an unprecedented move, last year the leaders of 12 Hudson Valley municipalities that could be impacted by Amtrak's proposal joined Scenic Hudson in signing a letter to the state Department of State urging it to object to the plan to construct eight-foot-tall fencing.
Dozens of grade crossings to the Hudson shoreline have been closed by the railroad or transportation agencies since the line's construction in the 1850s. For example, fencing constructed at a grade crossing in Castleton-on-Hudson (Rensselaer County) has prevented residents and visitors from enjoying a municipal waterfront park for more than 25 years. The complete plan can be downloaded at www.scenichudson.org/river-access-plan.
Scenic Hudson President Ned Sullivan said, "This is not the time to cut off anyone's access to nature. The Hudson River Access Plan provides an invaluable—and essential—tool for ensuring that our children and grandchildren will benefit from the special places along the river where we go to enjoy recreation and connect with its power and majesty.
"I congratulate Jeff Anzevino, Scenic Hudson's director of Land Use Advocacy, for his leadership of this important initiative, and thank all the public officials who have raised their voices together to oppose closing off public access to the river. Scenic Hudson looks forward to working with Amtrak, New York State and riverfront communities to implement the plan's recommendations, keeping the Hudson open to all, while assuring safe rail travel."
Town of Rhinebeck Supervisor Elizabeth Spinzia said, "The Hudson River represents one of Rhinebeck's most defining elements. The shoreline is the heart of our 16-mile-long National Historic Landmark District, but because of the rail line, people have extremely limited access to the river. I commend Scenic Hudson for undertaking the Hudson River Access Plan. This timely plan recommends common-sense ways, consistent with our Local Waterfront Revitalization Program, to help us all better enjoy the Hudson River."
Village of Tivoli Mayor Joel Griffith said, "The Village of Tivoli is grateful for the leadership Scenic Hudson has taken in producing this Hudson River Access Plan. This robust document forcefully articulates the public's need to stay connected, in all senses, to our region's most invaluable asset."
Germantown Supervisor Robert Beaury said, "Over the past decades and through the collaborative efforts of many partners, we've embraced the Hudson River as the front door to our communities and critical to our economic success. In working with my constituents and Scenic Hudson in developing the Hudson River Access Plan, we've identified a collaborative approach that can reduce risk along the tracks while at the same time increasing the public's ability to enjoy the river. I urge all parties to work together to achieve these common goals."
Castleton-on-Hudson Mayor Robert Schmidt said, "Here in the Village of Castleton-on-Hudson, we are an 'on-Hudson' village, yet we have no public access to the river at all. The state has approved our Local Waterfront Revitalization Program—and Riverfront Park was designated by the Rensselaer Land Trust as one of the three top county river access priorities. We have been promised access to the park, but we gaze at it and our village's eponym through locked gates with 'No Trespassing' signs! Thank you, Scenic Hudson, for co-hosting a forum in our village and giving voice to our concerns. We hope that the Hudson River Access Plan represents a clear path forward for safe river access for our residents."
Plan informed by broad public, stakeholder input
Prepared for Scenic Hudson by the Peter Melewski LLC consultant team with Alta Planning + Design and George Stafford, former New York State deputy Secretary of State, the Hudson River Access Plan was informed primarily by input from more than 1,000 comments on an interactive map created for this project. People also offered 5,000-plus "votes" for their favorite destinations to connect with the river as well as suggestions about additional places where they would like to access it. Further input was provided by 300 citizens who participated in community forums held in January in Rhinebeck (Dutchess County), Germantown (Columbia) and Castleton-on-Hudson, as well as by the owners of public access sites, including the National Park Service, state agencies and Scenic Hudson.
In total, the Hudson River Access Plan documents 64 current and potential future sites for waterfront recreation between Poughkeepsie and Rensselaer. In addition to identifying each location, the plan denotes its size, ownership, amenities and current crossing characteristics, and also suggests potential or desired crossing improvements.
The plan also outlines 11 recommendations, to be completed over the next five years, which would increase public access to the river and enhance rail safety along the corridor. They include amending state laws to require preparation of a comprehensive public access plan, expanding education programs to improve safety along the rail corridor and developing a pilot program to demonstrate technologies that enhanced safer rail crossings.
The Hudson River Access Plan builds upon a previous report commissioned by Scenic Hudson: "At-Grade Passenger Rail Pedestrian Crossings, Empire Corridor." It offers successful, viable alternatives to gates and fences in use across the U.S. that would enhance rail safety and allow public access along the Hudson's eastern shore.
About Scenic Hudson
Scenic Hudson preserves land and farms and creates parks that connect people with the inspirational power of the Hudson River, while fighting threats to the river and the natural resources that are the foundation of prosperity in the Hudson Valley.