Land Deal Offers Great Potential for Expanding Opportunities to Enjoy Nature, Outdoor Exercise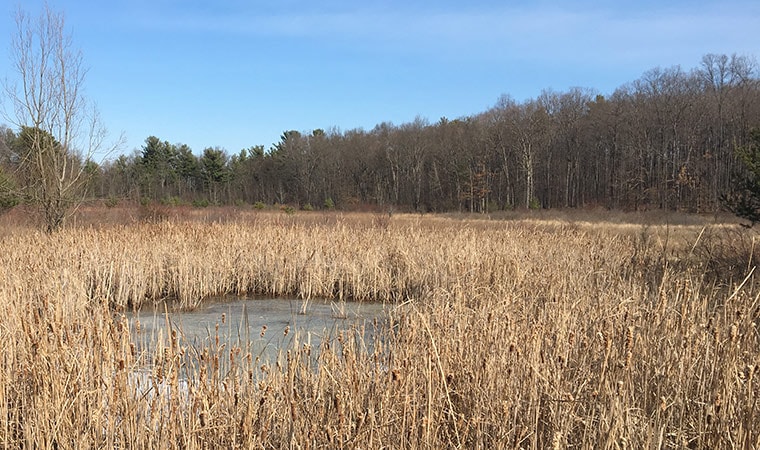 Jay Burgess
Director of Communications, Scenic Hudson, Inc.
Tel: (845) 473-4440 x222 Cell: (914) 489-0362 Fax: (845) 473-0740
jburgess@scenichudson.org
Acquisition also conserves "green gateway" to historic New Baltimore hamlet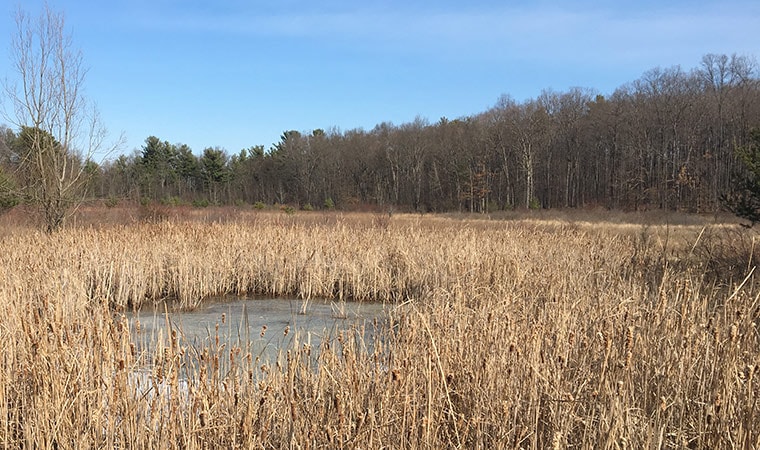 NEW BALTIMORE (Greene County)—Providing future opportunities for people to enjoy nature and exercise, Scenic Hudson has protected 24 acres overlooking the Hudson River in New Baltimore. This offers the potential to expand existing trails in Scenic Hudson's Long View Park onto the newly acquired land and a 148-acre conserved parcel surrounding it.
Composed primarily of forest and wetlands, the property is bordered on three sides by 148 acres conserved by Scenic Hudson in 2014. In addition, it is just north of and across County Route 61 from 76-acre Long View Park, protected by the organization in 2012 and created in collaboration with the New Baltimore Conservancy (NBC). The NBC manages the riverfront park and will work with Scenic Hudson to provide public access on the 172 protected acres. This would offer visitors a rare opportunity in the northern Hudson Valley to hike from the river's shore through open fields, woods and wetlands to a ridgeline offering seasonal views of the Berkshire Mountains.
Land's habitats also a priority for protection
Preserving land and natural resources helps keep the environment and people healthy. The diverse habitats on this land also made it a priority for protection according to Scenic Hudson's Hudson Valley Conservation Strategy (HVCS). Scenic Hudson developed the HVCS to pinpoint properties whose protection will maximize conservation investments by sustaining biodiversity, increasing resilience to climate change, securing the routes species depend on for survival and preserving working farmland. Due to the property's high HVCS score, the Doris Duke Charitable Foundation provided a portion of the purchase price. Additional key funding was provided by Scenic Hudson's Lila Acheson and DeWitt Wallace Hudson Valley Land Preservation Endowment.
The property's frontage on Route 61 also contributes to the historic, unspoiled "green gateway" to the hamlet of New Baltimore, including a National Register Historic District comprised of approximately 100 homes from the 18th and 19th centuries.
Land preservation boosts economic opportunity
"This is an important step in creating a premier outdoor destination in Greene County. Conserving the property safeguards important plant and animal habitats and also protects 170 contiguous acres of land. New trails extending from Scenic Hudson's Long View Park through this land would allow people to experience this stretch of the Hudson—from the waterfront to the ridge. We thank the Doris Duke Charitable Foundation for helping to make this acquisition possible, and we look forward to working with the New Baltimore Conservancy to make it accessible to the public," said Scenic Hudson Land Trust Executive Director Steve Rosenberg.
"We applaud Scenic Hudson for taking the initiative to 'complete the puzzle' on connectivity between the riverfront, the historic Armstrong farm and the hamlet. The New Baltimore Conservancy Board deeply appreciates the continued support of town and county officials and employees, local businesses and adjacent property owners for NBC's programs and projects. It has truly been a collaborative effort since Long View Park was established. I also want to recognize our tireless volunteers for all they have done that has made this important day possible," said New Baltimore Conservancy President Carol Melewski.
Scenic Hudson preserves land that provides the cornerstone of a sustainable Hudson Valley economy. The region's parks and open spaces contribute substantially to a 10-county tourism industry that generates $5.3 billion in spending annually and sustains nearly 86,500 jobs. Annual tourism spending in Greene County is $158.4 million and supports nearly 3,100 jobs. Protected lands also help grow other parts of the economy. A study by the Trust for Public Land notes that executives looking to relocate or start firms rank quality of life—including an abundance of parks and open space—higher than housing, cost of living and good schools.
This latest addition to the area's "green" infrastructure was negotiated by Scenic Hudson Land Project Manager Abdiel Lopez-Torres.
Conserving natural areas improves human health
Protecting open space also offers multiple human health benefits. Trees filter air pollutants that contribute to asthma, lung cancer and cardiovascular disease, while releasing oxygen. In addition to helping keep drinking water clean and avoid flooding, conserved land maintains biodiversity, which plays an important role in reducing the prevalence of diseases such as Lyme disease.
Conserving large, contiguous landscapes links and expands habitat networks on which many wildlife species depend and ensures that development-sensitive species, such as some forest-dwelling songbirds and vernal pool amphibians, continue to thrive. Scenic Hudson's parks also encourage people to be active, contributing to their better overall health.
About Scenic Hudson
Scenic Hudson helps citizens and communities preserve land and farms and create parks where people experience the outdoors and enjoy the Hudson River. We also bring together people, businesses and government to protect the river and natural resources that are the engines of the valley's local economies. Started in 1963 by a handful of citizens who cherished the simple pleasures of the outdoors along the Hudson, Scenic Hudson is credited with launching the modern grass-roots environmental movement. Today, in the face of new challenges and the effects of climate change, we are dedicated to making the Hudson Valley a great place to live, work and play. Our focus is on strengthening and maximizing benefits all can enjoy from the region's great assets—beautiful open spaces, working farms, and vibrant cities and town centers.
About New Baltimore Conservancy
The New Baltimore Conservancy is a not-for-profit corporation dedicated to conserve and enhance the natural, cultural and historic resources in and around New Baltimore, N.Y. We manage over 350 acres of properties owned by Scenic Hudson, Open Space Institute and the Town of New Baltimore. Comprised entirely of volunteers, we sponsor a diverse series of events each year including informative nature and historic walks, trail and roadway work days, Hudson River paddle events, social events and scholarships. We also do large-scale projects such as the construction of innovative environmentally friendly bridges, observation decks and boardwalks, and rehabilitating the historic Armstrong barn and outbuildings. To learn more and to join us at any events and programs, please visit our website.