This week we are celebrating people who work to connect people with green spaces. Learn more about them and other grassroots environmentalists in our People Who Make a Difference virtual gallery tour.
Whether it's a 1,000-acre nature preserve or a small park in a vacant city lot, public parks and green spaces serve a vital role in our world, as the current COVID-19 pandemic and social distancing guidelines are highlighting.
Green spaces help protect human health and well-being. They provide us with a place to recreate, offer educational opportunities, and also provide spaces for us to go to feel rejuvenated.
Studies have shown that spending time in nature can help reduce stress and fight fatigue. For children, spending time in nature increases confidence, responsibility, and can help students focus on their schoolwork.
Protecting green spaces isn't just important for humans, however. Green spaces provide precious habitat for wildlife, preserve water quality, and can help combat climate change.
Today, networks of land trusts, outdoor educators and state and federal organizations—as well as the activists featured below—are focused on making sure we all have access to green spaces no matter where we live.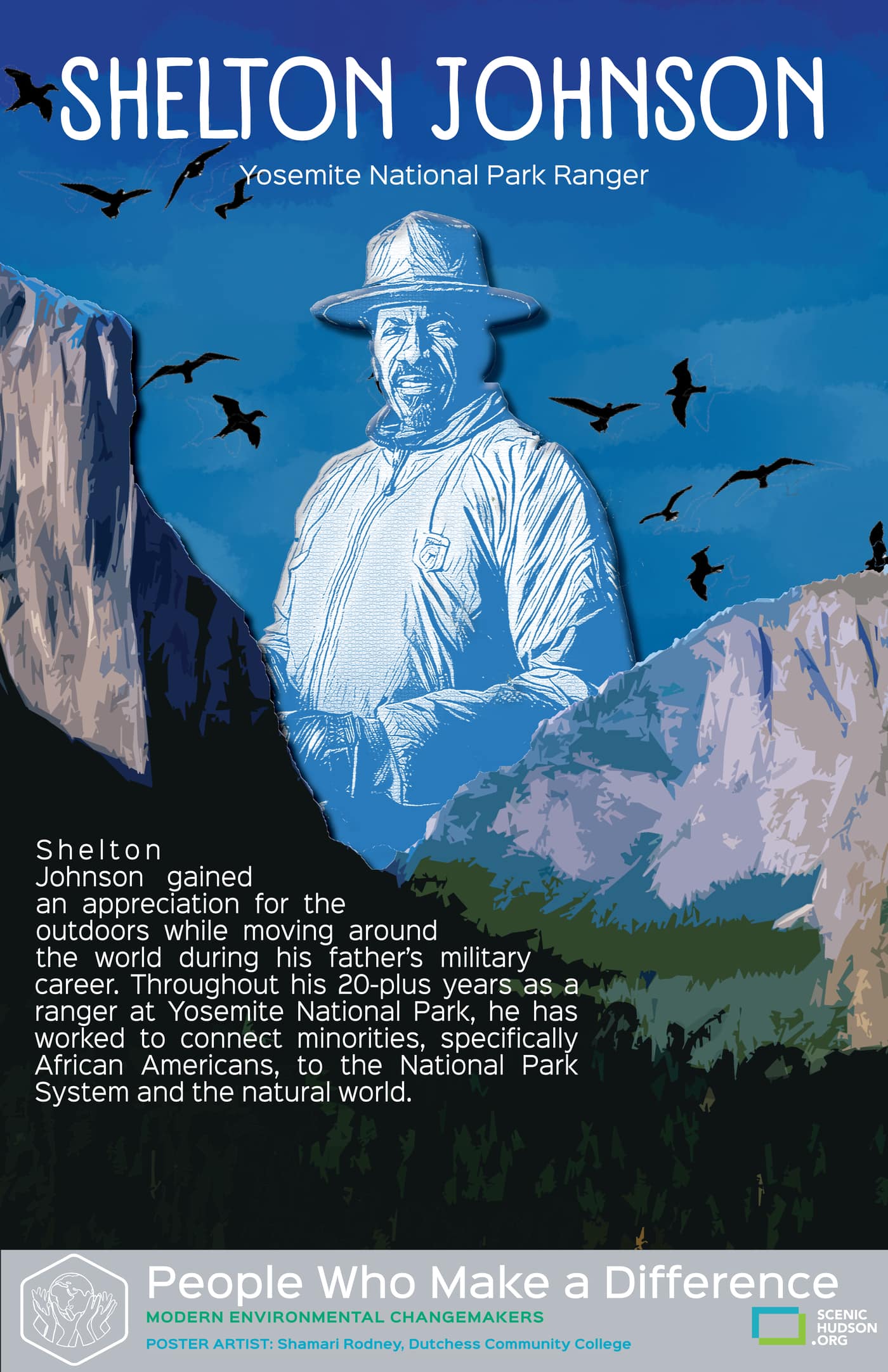 Shelton Johnson: National Park Service Ranger
When he was five years old, Shelton Johnson and his family took a vacation to the Bavarian Alps in Germany. Johnson would later attribute this vacation as a great influence on his love for mountains, the sky and the outdoors. His father's military service had brought the family to Germany, and would later move them to London and eventually back stateside to Detroit, Michigan.
At age 25, Johnson joined the Peace Corps and taught English in the village of Kakata, Liberia. He developed an appreciation for the dense green forests surrounding his village in every direction.
These days, Shelton Johnson is one of the most well-known rangers in National Park Service. He has served over 28 years as a ranger, 22 of those years at Yosemite National Park. Johnson has become an advocate for connecting people of color, particularly African Americans, to the outdoors and to our National Parks.
He is perhaps most well-known for his for his knowledge of Buffalo Soldiers and their history in Yosemite. Through literature, performance and interpretive programs, Johnson is able to teach young people of color about Buffalo Soldier history, and show them the invaluable role that people like them have played in our nation's environmental history.
"I can't not think of the other kids, just like me — in Detroit, Oakland, Watts, Anacostia — today. How do I get them here? How do I let them know about the Buffalo Soldier history, to let them know that we, too, have a place here? How do I make that bridge, and make it shorter and stronger? Every time I go to work and put the uniform on, I think about them." —Shelton Johnson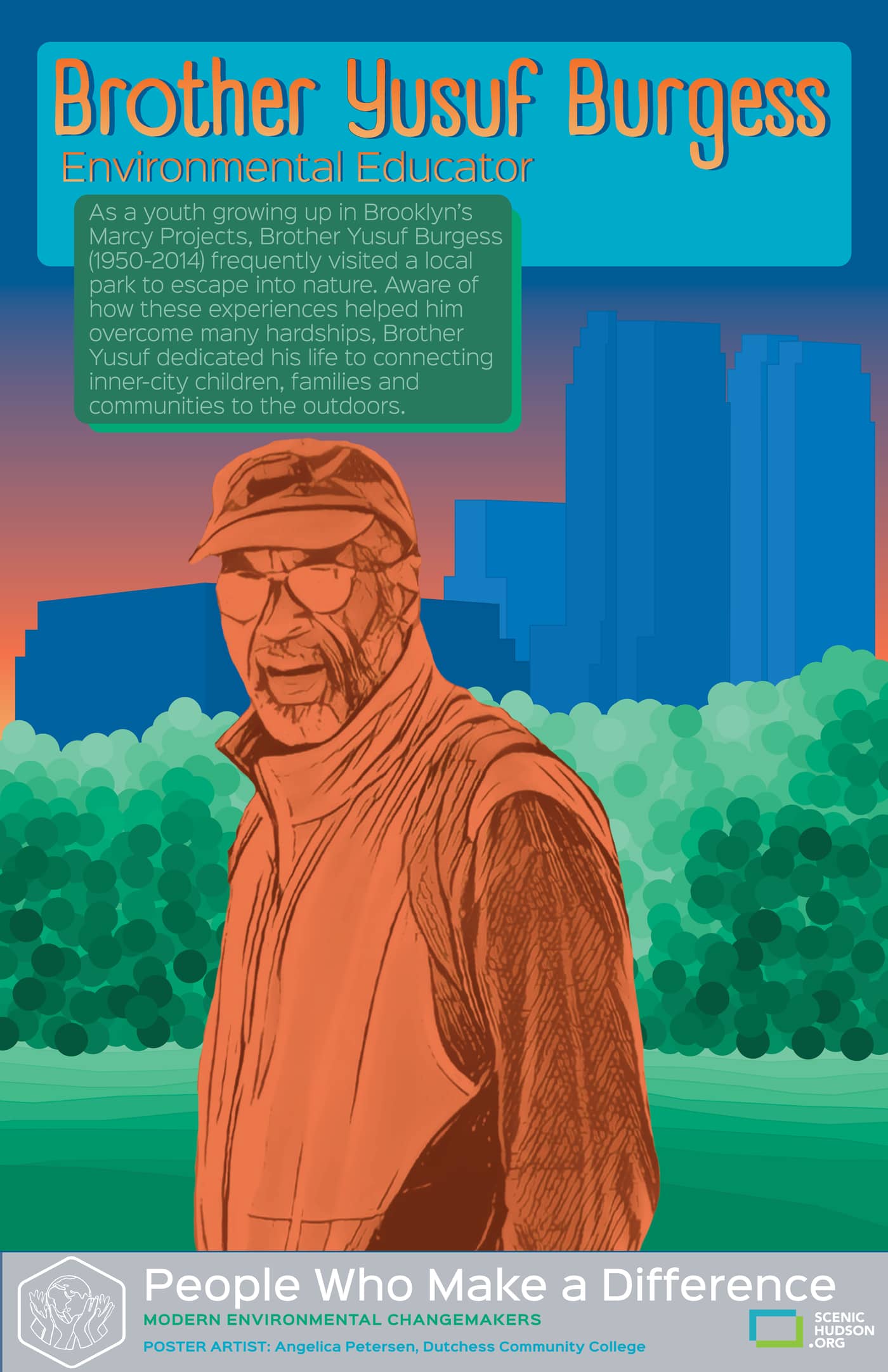 Brother Yusuf Burgess: Community Activist
Brother Yusuf Burgess (1950-2014) was a youth leader dedicated to giving kids in urban areas, particularly in Albany, the opportunity to experience and learn about the natural world. Burgess worked tirelessly to make the Adirondacks more accessible to young people of color and give kids the outdoor opportunities that had so greatly impacted his own life.
Growing up in Brooklyn's Marcy Projects, Burgess spent much of his free time in Prospect Park, collecting acorns and tadpoles.
"I often reflect back to my early childhood in Prospect Park, when my world was fresh and new and beautiful, full of wonder and excitement," wrote Burgess. "I know now that there was an innate part of me that was drawn to nature."
Later in life, after serving in Vietnam and subsequently spending time in state prison, Burgess' counselor assigned kayaking as a form of therapy to help Burgess reconnect with civilian life. He would later found an organization to help former inmates readjust to society.
At the time of his death, Burgess served as coordinator for the DEC's Capital District Campership Diversity Program. He had previously worked for Green Tech Charter High School and the Albany Boys and Girls Club.
Burgess also started Youth Ed-Venture and Nature Network, an Albany-based movement to reconnect all children, families and communities to the outdoors.
"Many of today's children are growing up in busy cities without nearby parks or 'special places' to experience the beautiful and awe-inspiring," wrote Burgess. "They stand to lose a very important part of what it is to be human."
Learn more about these youth climate activists and other change makers in our People Who Make a Difference collaborative poster project that celebrates inspiring grassroots environmentalists who may not have always been recognized—including people of color, women, youth, Native Americans and members of other indigenous groups. Take a virtual gallery tour of posters honoring these extraordinary people created by graphic design students from Dutchess Community College.