Scenic Hudson's parks play a vital role in connecting people to the power and majesty of the Hudson River and the magnificent lands along its shores. You can be a partner in our ongoing work to maximize the public benefits of these natural treasures and provide support as we safeguard more land for future generations.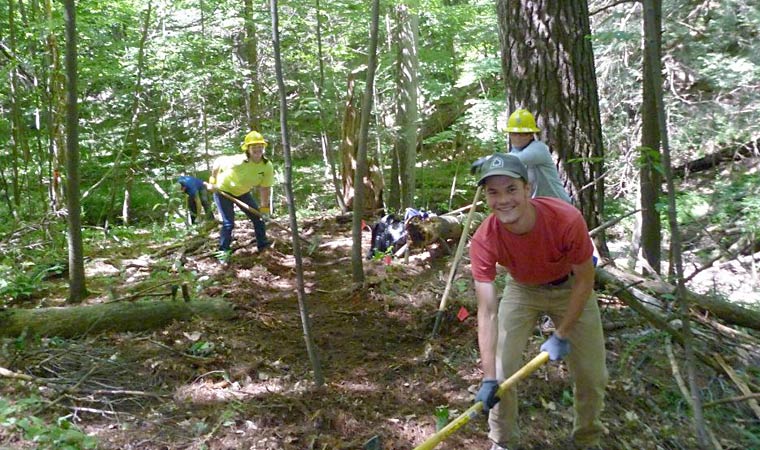 Trail-building near Harrier Hill Park. We offer a variety of volunteer opportunities to suit your schedule, interests and location. If you or your group or organization would like to volunteer with Scenic Hudson in our parks, please fill out our Volunteer Application. For addition information contact Anthony Coneski, Parks Event & Volunteer Coordinator.
Park Patrol
Be the "eyes and ears" of one of our parks. Provide information to visitors and use our property inspection form to alert Scenic Hudson about trail conditions and potential hazards. You'll also have opportunities to join staff and other volunteers in completing a variety of projects—from building trail bridges to pulling up invasive species and replacing them with native varieties.
Day in the Field
Join Scenic Hudson's field staff as they undertake their regular weekday work to keep our parks shipshape. You'll get to know our park experts—and more hands means faster results!
Learn and Serve Program
Help make our parks more inviting for wildlife. After learning to identify several invasive plants, remove and replace them with native species that aid in restoring natural habitats. Perfect for school or community groups, the program is geared to increase participants' knowledge about natural resources, ecological concepts and environmental issues.
Citizen Science—Hudson River Estuary Program Eel and Herring Monitoring
Engage in firsthand research that may help biologists discover why populations of these important fish are declining. In the spring, use nets and traps to catch juvenile glass eels at our Black Creek Preserve (Ulster County). After counting and weighing them, you'll release them unharmed. Our Eel Monitoring Training Day is March 16.
Weekend Volunteer Workdays
Take part in one of our periodic weekend workdays—planting trees, removing invasive species, building trails, participating in park cleanups and more. These events are excellent for families and scout groups. Please see our events page for workdays.
Pitch in for Parks
Lend a hand—and enjoy the great outdoors— joining us on the first Thursday evening of each month (April-October). Together we'll tackle an important park maintenance project. Please see our events page for workdays.
Earth Day Park Cleanup
Each April, join people around the world committed to creating a more beautiful planet. We'll spruce up one of our spectacular parks by picking up trash, building trails or removing invasive plants. Earth Day Cleanup
National Trails Day Event
This nationwide program is typically the first Saturday in June. There's no better day to learn the art of trail design and building, so work with us to create new trails or improve existing ones.
Park Ambassadors
If you're an energetic "people person," help others enjoy and learn about the exciting features in one of our popular waterfront parks.
Office Helper
Join us in the office and help keep track of a mountain of paperwork essential for protecting more "must-save" lands. Projects include sorting, labeling, copying and filing.