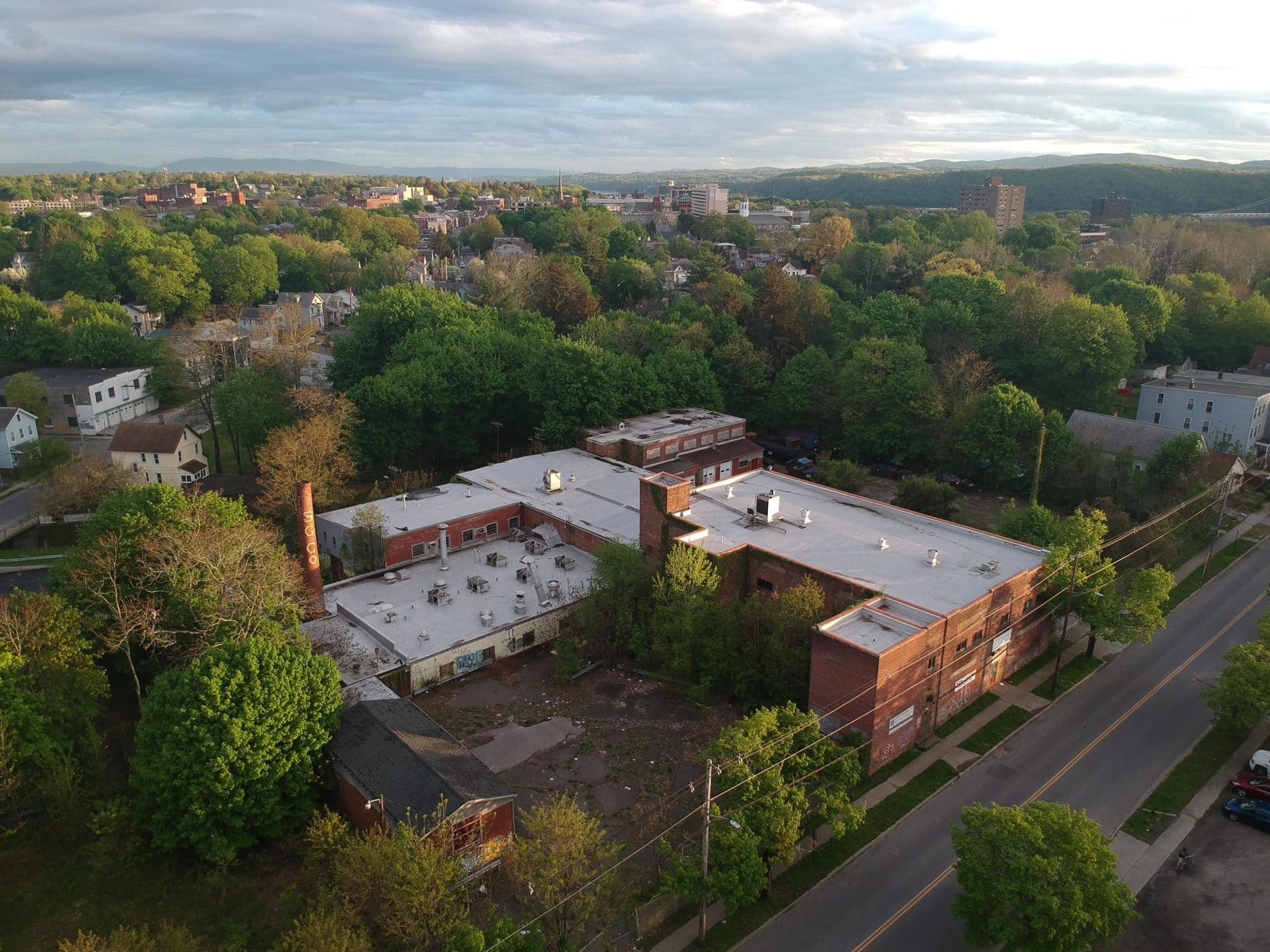 CONTACT: Ned Sullivan, President: 914 489 4630; nsullivan@scenichudson.org
Group plans to create community resource, workspace for staff
FOR IMMEDIATE RELEASE
POUGHKEEPSIE (Dutchess County)—Two derelict manufacturing plants in the City of Poughkeepsie could be transformed into a vibrant community resource through an exciting adaptive reuse project.
Northside Junction, LLC, an affiliate of The Scenic Hudson Land Trust, has acquired the property and buildings at 58 Parker Avenue and 164 Garden Street. Scenic Hudson envisions creating workspace for its staff as well as outdoor parkland and public space for community gatherings, meetings, events and educational activities.
The buildings are adjacent to three projects in which Scenic Hudson has played leading roles to protect and reconnect local residents and visitors to nature and the Hudson Valley's scenic beauty—Walkway Over the Hudson, the Fall Kill Creek and a proposed greenway along it, and the former CSX rail spur the organization acquired last year with Dutchess County, which plans to create a new 2.7-mile rail trail linking to the Dutchess Rail Trail.
The properties are located in Poughkeepsie's Northside, where Scenic Hudson has been working with local partners on a number of initiatives to improve residents' health, safety and quality of life—from conducting regular cleanups and re-envisioning Malcolm X Park to creating a new urban farm adjacent to Pershing Park.
Both buildings and land will require extensive remediation to remove asbestos and contamination. Scenic Hudson's goal is to make the repurposed land and structures green and environmentally sustainable. The organization will reach out to community groups to brief them on the acquisition and seek their input about planning for the properties' future uses. It will continue evaluating options for the properties as the redevelopment process unfolds.
Scenic Hudson President Ned Sullivan said, "Acquisition of these properties is an opportunity for Scenic Hudson to deepen its roots in Poughkeepsie—our home for half a century. The project reflects our commitment to active partnerships in revitalizing the city's Northside neighborhoods, Fall Kill Creek, and the trails that traverse and connect parts of the city and residents with the Dutchess and Empire State trails and other recreational destinations on both sides of the Hudson. We look forward to sharing our ideas with local stakeholders—and listening to their needs and concerns—as we envision the future of the buildings and land."
Dutchess County Executive Marc Molinaro said, "I salute Scenic Hudson for making this acquisition. By transforming these unsightly buildings and property into a community hub, it also will provide a beautiful new focal point for visitors arriving at Walkway Over the Hudson—right across the street—and a place for people to stop and relax while biking on the new rail trail Dutchess County and Scenic Hudson have partnered to create. It's another great example of Scenic Hudson's commitment to revitalizing downtowns along our county riverfront."
Poughkeepsie Mayor Rob Rolison said, "By restoring these buildings and providing a new place for the community to unite, Scenic Hudson reaffirms its status as a good neighbor to Poughkeepsie residents. I look forward to hearing more about their plans."
Poughkeepsie Common Council Member Lorraine Johnson said, "I'm delighted that Scenic Hudson plans to remain in Poughkeepsie and will be in the Third Ward. Their plans are truly exciting and will support ongoing efforts to provide new recreational and other opportunities that will unite the community in the city's Northside neighborhoods."
Scenic Hudson Chief Finance and Operations Officer Jason Camporese and Senior Land Project Manager Emily Hague negotiated the transaction. The architecture firm MASS Design Group, which has worked with Scenic Hudson on other revitalization efforts in downtown Poughkeepsie, is partnering on this project as well.
About Scenic Hudson
Scenic Hudson preserves land and farms and creates parks that connect people with the inspirational power of the Hudson River, while fighting threats to the river and the natural resources that are the foundation of prosperity in the Hudson Valley. www.scenichudson.org
-30-