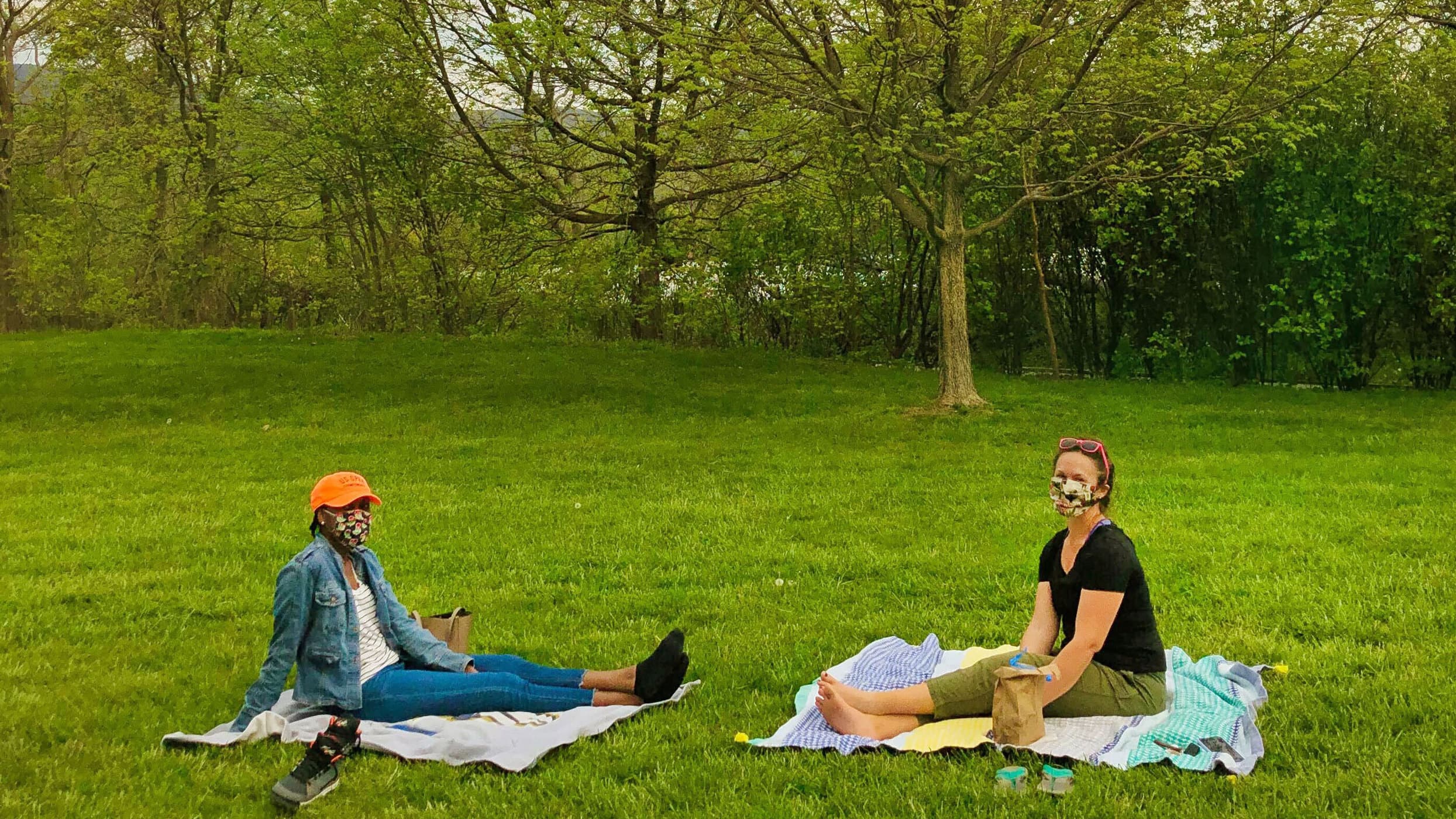 We want you to have a good time in our parks. By following some simple guidelines, you can help us maximize the benefits of these special places for all visitors.
The health and safety of park visitors remains one of our top priorities. In light of the ongoing COVID-19 endemic, all special events and group outings must be pre-approved. To coordinate one, please fill out this form and email Anthony Coneski.
Thanks for doing your part to protect yourself and others so we can continue to make Scenic Hudson parks and preserves available for all.
Please do these things:
Vehicles are permitted only in designated parking areas
Stay within posted property boundaries
Be considerate of other park visitors and of adjoining property owners
Keep pets leashed at all times and clean up after them (see dog policy below)
Carry out all trash
Stay on marked trails
Take precautions and check for ticks after spending time outdoors. Deer ticks, which can transmit Lyme disease, are a growing problem in this area.
Exercise caution when walking alone
Please don't do these things:
Use motorized vehicles (except those covered under Scenic Hudson's OPDMD policy)
Use motorized watercraft (except with permit where allowed)
Fly drones
Camp
Barbecue or make campfires
Remove or destroy wildlife or artifacts
Harm or remove plants, including by foraging
Swim
Hunt (except with permit where allowed)
Ride horses (except as permitted by easement)
Dump or litter
Feed wildlife
Smoke
Consume alcohol
Use metal detectors or hunt for relics
Play radios or other sound-transmitting device
Dogs are welcome at all Scenic Hudson parks except Scenic Hudson Park at Irvington and Hudson Highlands Nature Museum. Dogs must be leashed at all times (6-ft. maximum). Owners must clean up after their pets. Those who don't respect these posted rules also violate a state ordinance that may result in fines and an animal's impoundment. We want to keep making our parks available for pets. Please remind fellow dog owners about the importance of abiding by our policies.
Unleashed dogs can become lost and encounter Lyme ticks, snakes, other dogs or rabid animals.
Unleashed dogs intimidate other visitors, depriving them of the peace our parks provide.
Unleashed dogs can harass or injure wildlife and other dogs.
A leashed dog's keen senses can alert you to nearby wildlife or other park users.
Unleashed dogs could result in the banishment of all dogs from your favorite parks.
It carries diseases to which young children are especially susceptible.
It takes the joy out of outdoor activities — kids play on the grass, and families enjoy picnicking.
It can wreak havoc on the ecosystem — the natural beauty people come to enjoy.
It has been shown to raise harmful bacteria levels in nearby ponds and streams.
Not cleaning it up is against the law.
Yes, we make our parks available for special events and group outings, and even the occasional movie set.
To use a Scenic Hudson park, you must fill out the appropriate application and agreement forms and submit them 4-6 weeks prior to your proposed activity. Mail, fax or email them to
Scenic Hudson
C/O Senior Community Projects Manager
85 Civic Center Plaza; Suite 300
Poughkeepsie, NY 12601
aconeski@scenichudson.org
Special events include:
Weddings and celebrations
Commercial activities such as guide services (hikes, bird watching, kayaking, etc.)
Large group events (more than 40 people)
Athletic events
Activities with fees associated with them
Activities that request any part of the park to be closed to the public or that involve the use of special event equipment (tents, portable toilets, dumpsters, generators, food service equipment, etc.) or motorized vehicle use
Activities where prepared foods will be served
Special Event Permit Application
Yes. Group outings include:
Routine park activities that will include 10 or more people, whether private or open to the public
School groups and educational activities/studies of any sort, civic organizations, club activities, scout groups, etc.
Application procedure
Scenic Hudson will contact permit applicants with any questions and to verify information within one week of receiving an application.
After all application materials are received and thoroughly reviewed, we will issue a decision in the form of a letter to the applicant. A letter approving the request will serve as the permit.
Please note:
Scenic Hudson requires 4-6 weeks advance notice for Special Event Permits and will try to accommodate shorter notice for Group Permit applications.
Permission for park usage is contingent upon there being no other scheduled uses of the park at that time.
Scenic Hudson reserves the right to postpone or deny a permit if it conflicts with our own park activities.
Applications must be for park uses that are in keeping with Scenic Hudson's mission and goals.
Permission for the event will be granted by Scenic Hudson in writing and is not guaranteed by submitting an application.
Yes. Each year storage slips for 24 boats are made available for rent in the kayak storage pavilion at Scenic Hudson's Long Dock Park. See this page for details:
Scenic Hudson offers hunting permits for use at Shaupeneak Ridge in Esopus (Ulster County). Permits are available for spring turkey season and fall bow and rifle deer-hunting seasons. Dates for these seasons are regulated annually by the New York State Department of Environmental Conservation (DEC). Scenic Hudson fully complies with all DEC rules and regulations regarding hunting.
Hunting Rules
No motorized vehicles/ATVs
No permanent tree stands. Tree stands may be placed two weeks before hunting season begins and must be removed two weeks after the end of the season
Cutting, removal, or damage to any vegetation is prohibited
Please respect the private property of our neighbors and do not illegally trespass. Hunters found illegally trespassing will have their permits revoked. Discharging of any firearms within 500 feet of any residence is illegal in New York State
No camping
No littering ("carry in, carry out")
All other Scenic Hudson property rules must also be obeyed. 
To receive an announcement via email about future applications and deadlines, please email hunting@scenichudson.org. Approximately 30 days before the beginning of each season, we'll send you an announcement with a link to our online entry form. A few weeks before each season commences, we will close the application and contact all entrants with the results.
Yes, but they must be registered with us prior to placement. Scenic Hudson has the right to deny permission or remove a geocache at any time. In general, our policy favors placing geocaches in parks that feature maintained trails, parking areas, kiosks, etc. We evaluate each proposed geocache on an individual basis based on the following criteria:
Geocaches must be located close to existing trails; the grade from the trail to the cache must be gentle (less than 12%).
The total number of geocaches in a particular area or park will be kept to a reasonable number (at Scenic Hudson's discretion).
Geocaches cannot be located in or beneath any structure, building or ruin, including stone walls, bridges, kiosks, signs or benches.
Geocaches must be located a sufficient distance from any ecologically or historically sensitive areas such as wetlands and archaeological sites. No geocaches will be permitted at West Point Foundry Preserve.
Geocaches must be located a sufficient distance from potentially hazardous areas such as cliffs.
In the geocache description, please use the following credit line: "This park is owned and managed by Scenic Hudson. Individuals seeking geocaches do so at their own risk and must follow rules listed on the park kiosk."