2013 DEER HUNTING SEASON: From Oct. 1 through Dec. 17, hunters may be at Shaupeneak Ridge. Hunting is by permission only. Throughout the season, visitors are encouraged to wear brightly colored clothes and stay on marked trails.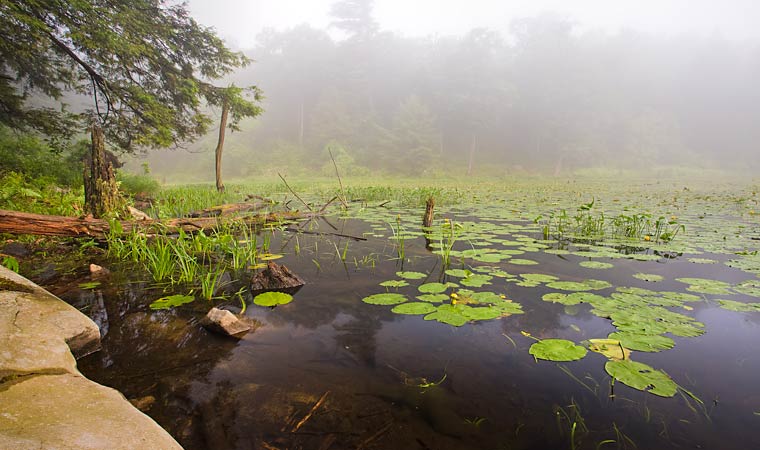 Louisa Pond atop Shaupeneak Ridge is a tranquil getaway in Ulster County. Robert Rodriguez, Jr.
Esopus, Ulster County (790 acres)—Located on the slopes and top of Shaupeneak Ridge, part of the Marlboro Mountains, the preserve offers a cornucopia of treats for nature lovers — wildflower-filled grasslands, woods, a waterfall and pond, stunning rock formations and an abundance of wildlife, including beaver, deer, coyotes and turkeys. Just as impressive are the vistas, stretching to the Hudson River and, once the leaves have fallen, the Catskill Mountains. (Scenic Hudson has protected farmland at the base of Shaupeneak Ridge to ensure pastoral views from the preserve remain unspoiled.) This splendor, combined with the rugged terrain, has made Shaupeneak Ridge one of the region's prime mountain-biking destinations. The preserve also is the site of Scenic Hudson's annual Spring Sprint 5K Trail Race. At whatever speed you enjoy the trails, you'll be amply rewarded.
For a fun, family-friendly hike, follow the trail around Louisa Pond (abloom with water lilies in summer) and an adjacent wetland that provides food and shelter for birds, dragonflies and other creatures.
Park Features
Biking
Bird watching/nature study
Dog walking (on leash)
Fishing
Hiking
Hunting (with permit)
Kayaking & canoeing
Picnicking
X-country skiing & snowshoeing (ungroomed trails)
When to visit
Year-round daily dawn to dusk. Allow a minimum of 2 hours.
Trails
Nearly 9 miles of trails of varying difficulty and length allow exploration of the preserve's myriad natural and scenic treasures. Please exercise caution if visiting during spring turkey or fall deer hunting seasons. Visit the state Department of Environmental Conservation website for current hunting schedules.
Shaupeneak Ridge is maintained in cooperation with the state Department of Environmental Conservation and the West Esopus Landowners Association.
Directions & Map
Crossing Mid-Hudson Bridge from east to west, take Route 9W north for 8.2 miles. Left on Old Post Road. Lower parking lot is 0.2 miles on right. For upper lot, follow Old Post Road to Poppletown Road, which splits off to the right. Parking area is on the left, 2.5 miles from intersection of 9W and Old Post Road.
Maps & Resources
Town of Esopus "Heritage and Recreation Network" brochure (pdf, 3.5mb)
More to Explore — Nearby Parks