A pioneer in securing justice and equality for all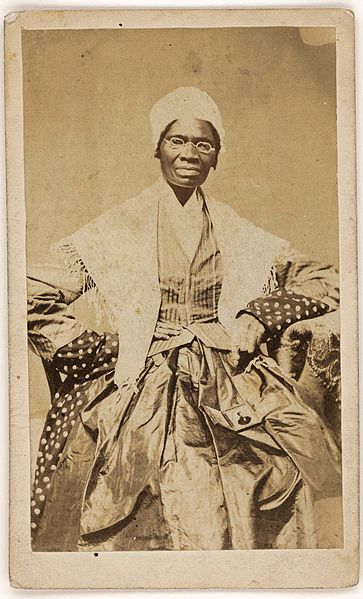 About Sojourner Truth
Sojourner Truth was enslaved for the first 29 years of her life — until she literally walked to freedom. Named Isabella at her birth in 1797, she was one of 12 children of James and Isabella Baumfree enslaved by Colonel Johannes Hardenbergh in Rifton, Ulster County. All of the children would be sold away from their parents and each other.
By age 13, Isabella had been sold three times and enslaved by four different Ulster County families. She carried the physical and emotional scars throughout her life. In 1826 John Dumont rescinded his promise to free her, so Isabella escaped. She walked 11.5 miles with her infant daughter Sophia — leaving three other children behind — to secure her freedom. "I did not run off, for I thought that wicked, but I walked away by daylight, believing that to be all right," she later said.
Isabella had barely begun to get used to her new life as a free person when she learned that Peter, her youngest son, had been sold illegally over state lines. The case she fought to gain his return from Alabama was one of the first in which a Black woman successfully challenged a white man in a U.S. court.
Isabella eventually felt a calling to speak out about the injustices she saw. Inspired to legally change her name to Sojourner Truth in 1843, she went on to travel and spread her message of freedom. Today, she is remembered as one of the foremost leaders of the abolition movement and an early advocate of women's rights, universal vote, prison reform, and reparations for enslaved African Americans. She continued to speak passionately on these issues until her death on November 26, 1883.
In 2009, First Lady Michelle Obama unveiled a bust of Sojourner Truth in the U.S. Capitol to recognize her invaluable contributions to securing equality and justice for all. More recently, Truth's enduring legacy has been recognized in a number of meaningful ways in Ulster County.
At Shaupeneak Ridge Preserve in Esopus, on land Truth likely passed during her walk to freedom, Scenic Hudson created a trail honoring her life.
About Sojourner Truth Day
In 2021, thanks to the hard work of youth activists who came together at the Kingston YMCA Farm Project, Ulster County designated November 26 as Sojourner Truth Day. (New York's Senate has passed legislation to expand the recognition statewide.)
And in February 2022, Governor Kathy Hochul announced that the new state park in the City of Kingston and Town of Ulster would be named after Truth. Speaking at the official opening of Sojourner Truth State Park two months later, Barbara Allen, Truth's sixth-generation granddaughter, noted that "She may have left, but her spirit is always here."