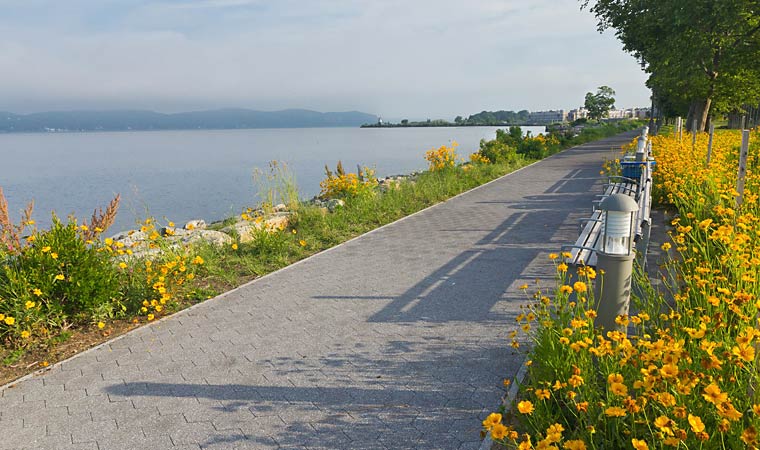 Upriver View from RiverWalk Park. Robert Rodriguez, Jr.
Tarrytown, Westchester County (5.2 acres)—Scenic Hudson partnered with the village, county and developer Natural RE/sources to turn this longtime industrial site into a waterfront park offering magnificent views stretching from the Manhattan skyline to the Tappan Zee Bridge. Features include a 0.6-mile riverside esplanade, a series of grass terraces and lawns, and an "eco-corridor" filled with native plants. A segment of the planned 51-mile Westchester County RiverWalk, the park is adjacent to Tarrytown's Pierson Park.
Scenic Hudson appreciates Friends of the RiverWalk-Tarrytown for helping keep this park shipshape. This energetic corps of community volunteers has contributed mightily to the park and has developed a model for the stewardship of the RiverWalk as the founding chapter of its Friends of the RiverWalk.
Park Features
Access via train
Universally accessible
Bird watching/nature study
Landscaping maintained by Friends of the RiverWalk-Tarrytown volunteers
Fishing
Picnicking
Walking
Cycling (separate trail)
Dog walking
Food nearby
When to visit
The park is open from a half-hour before sunrise to a half-hour after sunset. For inquiries about Scenic Hudson RiverWalk Park at Tarrytown, contact the Village of Tarrytown at 914-631-8347.
Location
250 W. Main St., Tarrytown (just north of Pierson Park)

View Scenic Hudson RiverWalk Park at Tarrytown in a larger map
More to Explore — Nearby Parks