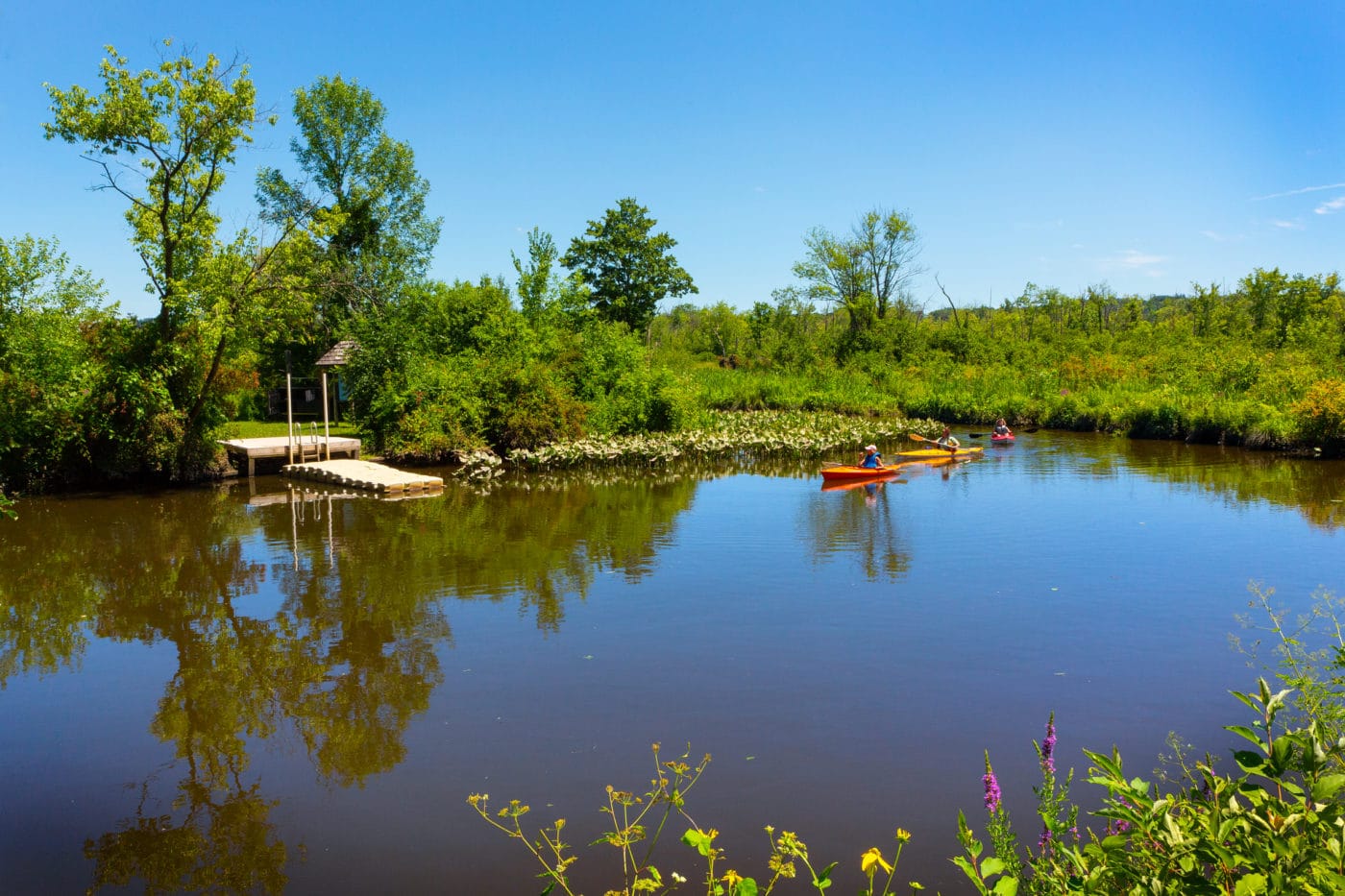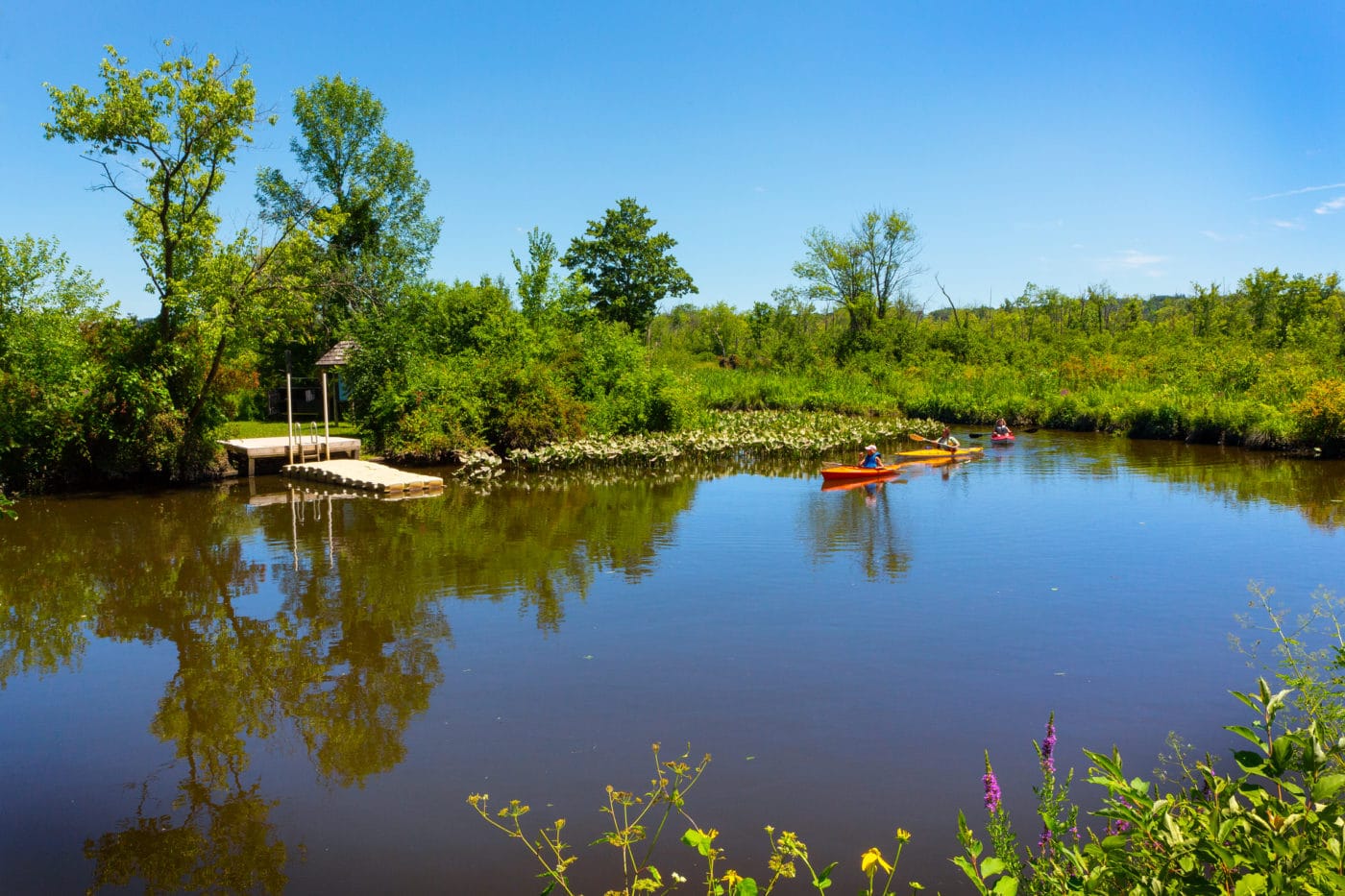 A pie o a remo, encontrará un sinfín de sorpresas al recorrer el mayor pantano de marea boscoso del río Hudson.
CATSKILL, Condado Greene (612 acres) — Puede que una marisma no tenga el mismo caché que una cumbre montañosa, pero lo que le falta en esplendor lo repone en diversidad de vida silvestre. Como el Santuario RamsHorn-Livingston bien lo demuestra, las marismas pueden ser sumamente hermosas, llenas de flores silvestres, susurrantes yerbas palustres y salientes rocosos fascinantes. Al remar por la quebrada, tan serpenteante como el caramelo en cinta antiguo, irá al encuentro de libélulas, garzas azuladas, bandadas de aves acuáticas, ratas almizcleras y nutrias, y tal vez un águila calva. En otras palabras, aunque este sea un lugar ideal para alejarse de todo, tendrá suficiente compañía.
RamsHorn-Livingston Sanctuary es una copropiedad en administración conjunta con Audubon New York. Para cualquier consulta o información relacionada a programas educativos o públicos, contactar a Audubon New York: 845-265-2601.
Acceso gratuito y abierto todo el año, desde el alba hasta el anochecer.
Descubre El Santuario RamsHorn-Livingston
Cortometraje de Jon Bowermaster/Oceans 8 films, con música de Meena Ysanne
Aviso Importante Sobre Seguridad Ante el COVID-19
La seguridad de las personas visitantes ante la persistencia en casos de COVID sigue siendo de suma prioridad para Scenic Hudson. Toda visita de grupo debe ser aprobada de antemano (favor llenar este formulario y escribir a Anthony Coneski para coordinar una visita).
Aunque el CDC y el Estado de Nueva York ya no requieren el uso de mascarilla en lugares abiertos, rogamos a las personas visitantes que no se hayan vacunado y a los grupos grandes considerar el uso de la misma, pues el número de casos de COVID sigue aumentando en nuestra región.
Gracias por poner de su parte al protegerse y proteger a las demás personas; así podremos seguir brindando acceso a estos valiosos recursos para todas las personas.
Actividades
Punto en el Hudson River Greenway Water Trail
Single Park Map
Get Directions
Featured content and resource list – click pencil to add content
Para Explorar Más
El pintoresco centro de Catskill es un lugar idóneo para restaurantes y compras. Además puede visitar el Sitio histórico nacional Thomas Cole, hogar y estudio del fundador de la Escuela de pintura del Río Hudson, y dar un paseo por la Pasarela del río Hudson, donde podrá disfrutar de las vistas que inspiraron a Cole.