PLEASE NOTE: Due to extensive icing on the access stairs, the Johnson-Iorio Memorial Park entrance to Franny Reese State Park is currently closed. Please use the Mack's Lane entrance instead.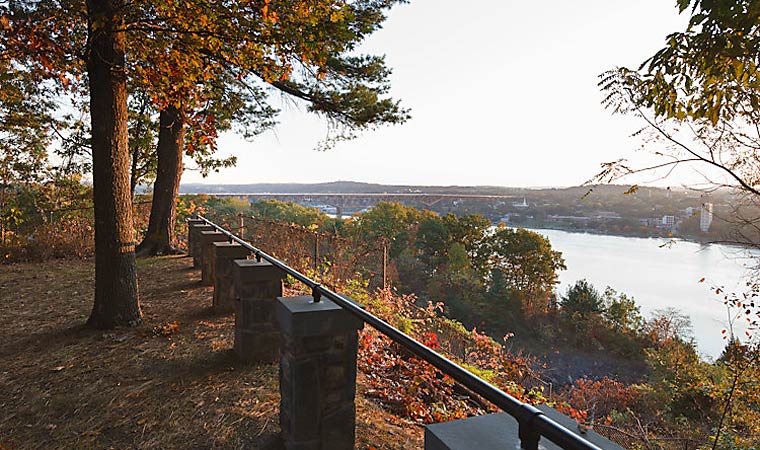 The overlook at Franny Reese State Park photo: Robert Rodriguez, Jr.
PLEASE NOTE: through mid-June, portions of Franny Reese State Park will be closed periodically to allow for repair of trails and drainage structures caused by severe storms in recent years. Signs and construction tape will alert visitors to what sections of the park are under construction and off-limits. Thank you for your patience.
Highland, Ulster County (251 acres)—Scenic Hudson initially protected (and continues to manage) this stunning landscape, now owned by the state Office of Parks, Recreation and Historic Preservation and named in memory of Frances "Franny" Reese (1917-2003), Scenic Hudson's guiding spirit. Its 2.5 miles of trails follow in part an historic carriage road that passes the ruins of a 19th-century estate, while an overlook affords superb views of the Mid-Hudson Bridge, Walkway Over the Hudson State Historic Park and the City of Poughkeepsie. A link connects the park to the Walkway Loop Trail.
Park Features
Access via train
Biking
Bird watching/nature study
Dog walking (on leash)
Food nearby
Hiking
Picnicking
X-country skiing&snowshoeing (ungroomed trails)
When to visit
Year-round daily dawn to dusk.
Directions & Map
Crossing Mid-Hudson Bridge from east to west, take Route 9W north and take first right onto Haviland Road. Parking area for Johnson-Iorio Park is located at the end of Haviland Road. From parking area, descend stairs and cross under Mid-Hudson Bridge. Trailhead is on the right. View Larger Map
Maps & Resources
More to Explore — Nearby Parks