Madam Brett Park offers a superb opportunity to connect with Beacon's industrial past and some of its natural treasures.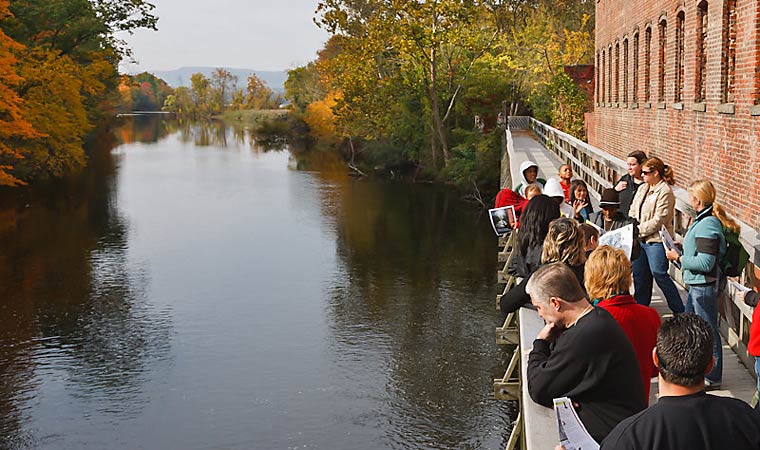 Enjoying the views at Madam Brett Park. photo: Robert Rodriguez, Jr.
Beacon, Dutchess County (12 acres)—Madam Brett Park hugs Fishkill Creek, which played a prominent role in Beacon's development. Along it stood a gristmill owned by the park's namesake — Catheryna Rombout Brett (1687-1764), the first European settler in the present-day city. The mill was an important gathering place for farmers and Native Americans inhabiting both shores of the Hudson River hereabouts. In the 1800s, the creek powered a profusion of hat factories (including the Tioronda Hat Works, located in the brick building adjacent to the park), which earned Beacon the nickname "New York's Hat-Making Capital."
Today the park provides a perfect place to explore the ecology of a vital Hudson River tributary and the tidal wetland at its mouth. Fishkill Marsh supports an extraordinary variety of wildlife. It furnishes a home for amphibians and aquatic mammals, including muskrats; serves as a hunting ground for ospreys, bald eagles and other raptors; and is a stopover for migratory birds. A boardwalk and observation platforms afford up-close discoveries of these and other creatures. A waterfall at the park's eastern end is especially impressive — and raucous — in spring or after heavy rains.
Park Features
Biking
Bird watching/nature study
Dog walking (on leash)
Fishing
Featured Atlantic Kayak Tours destination
Food nearby
Picnicking
Universally Accessible
Walking
X-country skiing & snowshoeing (ungroomed trails)
When to visit
Year-round daily dawn to dusk. Allow one hour.
Trails
A mile of gently sloping, gravel-surfaced trails lead to the dramatic waterfall and tidal marsh; a short, narrow woodland trail provides access to the marsh observation platform. A boardwalk along Fishkill Creek allows universally accessible exploration of this important Hudson River tributary and the wildlife it supports.
Directions & Map
From Newburgh-Beacon Bridge head 3.2 miles south on Route 9D, turn right on Tioronda Ave., then left under the railroad trestle. Parking area is on the left.
Maps & Resources
More to Explore — Nearby Parks