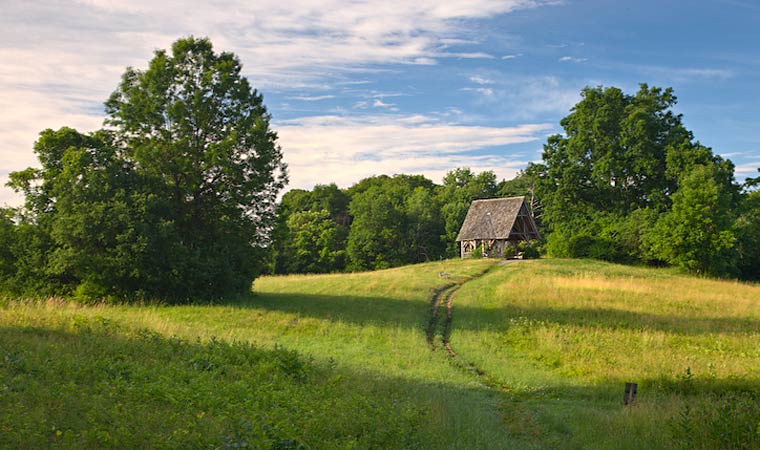 Rustic pavilion at Poets' Walk Park. Robert Rodriguez, Jr.
Red Hook, Dutchess County (120 acres)—In 1849 members of the Astor and Delano families, who lived on adjacent estates, commissioned German-born landscape architect Hans Jacob Ehlers to make improvements on these grounds. The classic wooded vistas, sunlit fields and thick forest were the main focus of Ehlers' vision for the property. He fashioned a series of "outdoor rooms," using stands of foliage and stone walls to break up the landscape, which includes rolling meadows, forests, and a ravine. Ehlers also created a shaded, streamside path, dubbed Poets' Walk in honor of Washington Irving and other literary figures who reputedly strolled here. (Legend has it that Irving came up with the idea for "Rip Van Winkle" here while gazing at the distant but very prominent Catskill Mountains, site of his protagonist's decades-long sleep.) Today, the park features two miles of trails through woods and rolling meadows with rustic cedar pavilions, footbridges, and benches. The park is buffered on all sides by 780 acres of private lands under conservation easements that ensure the landscape's protection from development.
Park Features
Bird watching/nature study
Dog walking (on leash)
Hiking
Picnicking
X-country skiing & snowshoeing (ungroomed trails)
No restroom facilities
When to visit
Park opens year-round daily at 8:30 a.m. Park closing times vary seasonally as follows:
| | |
| --- | --- |
| Nov. 1–March 13 | 6:30 p.m. |
| March 14–April 30 | 7:30 p.m. |
| May 1–Sept. 30 | 8:30 p.m. |
| Oct. 1–Oct. 31 | 7:30 p.m. |
Allow 2 hours.
Trails
Nearly 2 miles of trails — some gravel-surfaced, others hard-packed dirt — meander through meadows and woods. Along with the Overlook Pavilion, a rustic Summer House and benches provide intriguing places to rest.
Directions 
Crossing Kingston-Rhinecliff Bridge from west to east, turn left at first traffic light onto River Road. Entrance is 0.6 miles on left. 
Maps & Resources
More to Explore — Nearby Parks